On This Page
Mike DeWine for governor
Mike DeWine's story is a true Ohio story. Growing up in Yellow Springs, Mike and Fran (Struewing) met in the first grade and married while students at Miami University. They've been blessed with eight children and 26 grandchildren. Family is at the core of everything Mike DeWine does, and that's why he has devoted his life to fighting for Ohio's families.
Guided by his family and faith, Mike has governed as a compassionate conservative. He knows that when families are strong, Ohio communities are stronger – and our future is bright!
Mike DeWine's family started a seed company in Yellow Springs. Working alongside his parents and grandparents, Mike learned early the value of hard work, strong leadership, and fiscal responsibility.
Growing up, he loaded seed bags onto trucks and boxcars, shoveled wheat out of trucks during harvest, worked in wheat fields to help ensure the purity of the seed, and basically did whatever it took to get the job done for customers. Inseparable to the end, his parents were married for 65 years and died within four days of each other. The values he learned from them live within him today.
On November 6, 2018, Mike DeWine was elected to serve as the 70th Governor of the State of Ohio. He has had a distinguished career in public service, laser focused on protecting Ohio children and families. He was previously the 50th Attorney General of Ohio and has been elected by voters to serve as Greene County Prosecutor, Ohio State Senator, U.S. Congressman, Ohio Lieutenant Governor, and U.S. Senator.
Mike DeWine loves Ohio and cares passionately about our state's future. He is fighting for an Ohio that works for everyone – every person and every family in every corner of our state. Mike knows that to continue building our state into an economic powerhouse, we must have strong schools, a great quality of life, and compassion for those who need our help.
investment for Ohio
Governor DeWine and Lt. Governor Husted won the historic $20 billion Intel Semiconductor Factory project, which will bring more than 20,000 good-paying jobs to the buckeye state and will create generational opportunities for Ohioans. This is a powerful development not only for Ohio's economy and jobs, but for U.S. national security.
Ohio is on the front lines of the U.S.-China tech fight. China is doing everything it can to take over the global market so they can try to outcompete America. This starts with microchips that power everything from phones to cars, to home appliances, computers and much more.
Gov. DeWine took historic action to bring manufacturing back to America and home to Ohio. The Intel mega-project will be the largest single private sector company investment in Ohio's history.
Governor DeWine will continue to fight for smart pro-business policies and win for Ohio workers against Communist China.
largest tax cut
Since Mike DeWine began his first term as Governor in 2019, he's already cut taxes for all Ohioans by $2.2 billion dollars – which adds up to one of the largest tax cuts in Ohio history! In fact, Ohio was one of only nine states in the country that trimmed its tax burden during the coronavirus pandemic, thanks to strong fiscal leadership.
When the virus disrupted the global economy in 2020, Governor DeWine also tightened Ohio's budget by cutting $750 million in government spending. Knowing that businesses and restaurants were most impacted by COVID, his Administration returned over $9 billion to small businesses through Bureau of Workers Compensation rebates to help them stay afloat and protect worker's paychecks.
It paid off. In August 2020, Fitch Ratings elevated Ohio's financial outlook from "stable" to a "positive" AA+ rating, citing the state's superior financial resilience. The upgrade is Ohio's first change in 11 years, and represents the highest Ohio rating since 1979.
Creating jobs
Governor DeWine is bringing manufacturing jobs back to Ohio. The DeWine-Husted administration has championed career, technical and vocational education and training to help thousands of Ohioans prepare for good paying jobs and get ahead in their career.
A pro-business environment plus a strong workforce equals business investment. General Motors and LG Chem dedicated $2.3 billion to the Mahoning Valley to make battery cells for electric vehicles, which will create 1,100 jobs. Governor DeWine recently visited Toledo to celebrate Cleveland Cliff's $1 billion investment to build and operate the world's most modern and environmentally friendly Direct Reduction plan, which has created hundreds of jobs already.
The world is taking notice. Site Selection magazine ranked Ohio as the number one state for new business investment per capita, and CEO Magazine recently moved Ohio from 9th to the 7th best state to do business.
Fighting crime
Mike DeWine has spent his career supporting the needs of local law enforcement. When he served as Ohio Attorney General, he led the charge to close pill mills across the state. Under his leadership, Ohio was one of the first states in the country to file major litigation against drug manufacturers and distributors for their role in fueling the opioid epidemic. As a result, every community in Ohio will receive critical funds that will help save lives through evidence-based treatment, support for people in recovery, and prevention education.
Governor DeWine knows that to protect our communities and families, we must secure our southern border. He authorized sending the Ohio National Guard and Ohio Highway Patrol to the border to help stop lethal drugs, such as fentanyl, from reaching Ohio communities.
Further, Governor DeWine has championed our law enforcement officers across the state. While some politicians have called for defunding the police, Governor DeWine has doubled down on his support – investing more than $274 million to give our brave men and women in uniform the resources they need to keep Ohio communities safe by reducing violent crime, decreasing substance abuse, and assisting local agencies in the recruitment and hiring of new officers.
Building a Modern Workforce
To compete with China and succeed in a tech-focused economy, Governor DeWine and Lieutenant Governor Husted are investing substantially in career education, job training, and workforce development. They are closing the digital divide so all Ohioans have access to high-speed Internet services, which will create opportunity for generations.
The DeWine-Husted Administration has funded more than 40,000 tech-focused credentials through the TechCred and IMAP programs, through which Ohioans can earn short-term credentials – at no cost – to unlock new career possibilities and rewarding, good-paying job opportunities. Also, Governor DeWine is advancing Ohio's apprenticeship programs to give Ohioans clear paths into high-pay, high-skill careers. Over 19,000 Ohioans are currently in an apprenticeship, and Ohio is #1 in the Midwest and #3 nationally for the number of apprentices.
By creating Broadband Ohio, Governor DeWine is greatly expanding affordable, high-speed Internet availability across Ohio. With an investment of $232 million in grants, Broadband Ohio estimates that around 230,000 residents will gain access to high-speed internet. Giving our rural and underserved areas access will be a boon not only for local economies, but also for children and students.
About Lt. Governor Jon Husted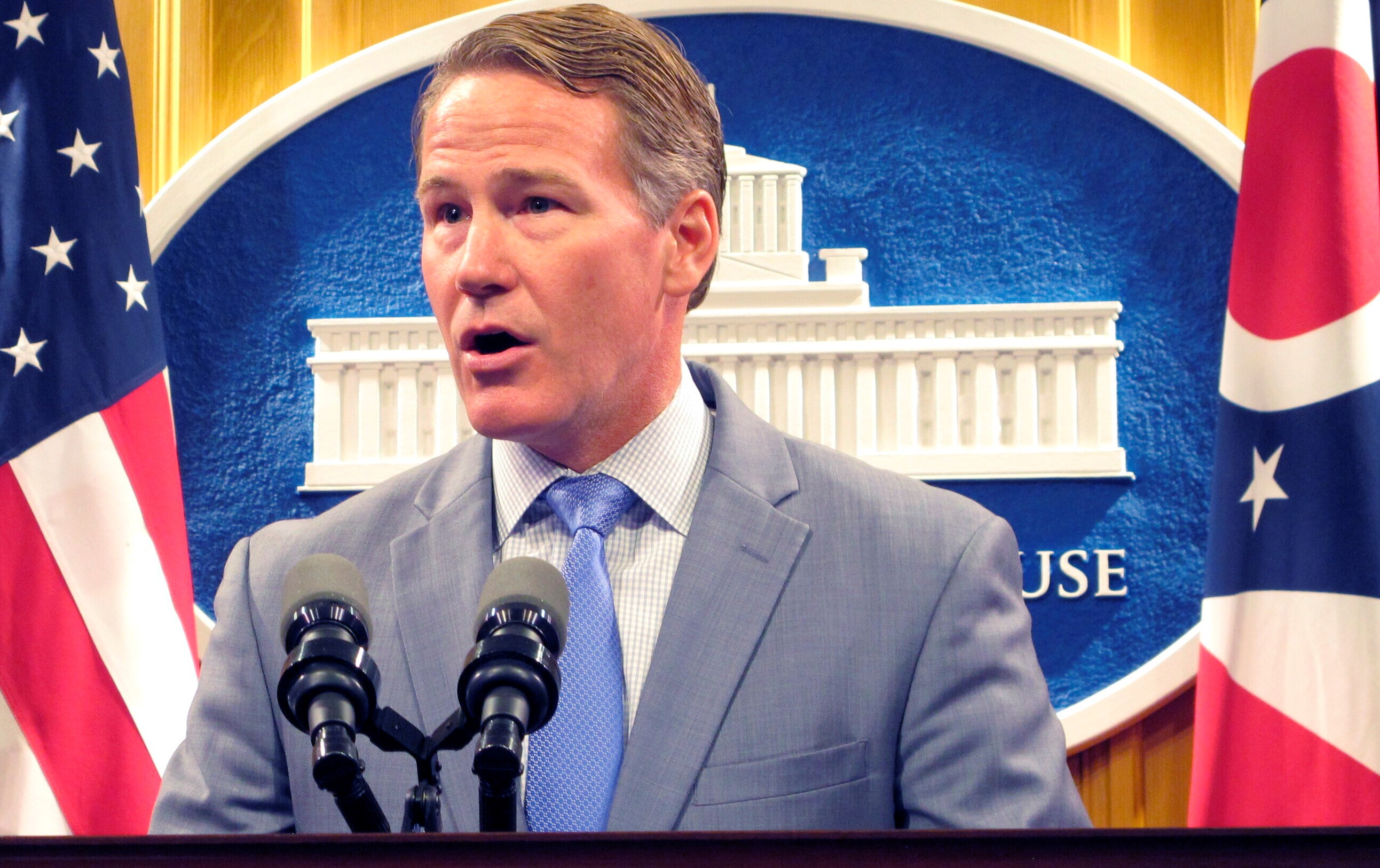 As Ohio's 66th Lt. Governor, Jon Husted continues to be a strong, reliable, commonsense voice within the Republican Party. With a focus on economic and workforce development, he has championed the administration's efforts to strengthen the economy, use technology to transform the way government operates, and build opportunity for every Ohioan.
Prior to his election as Lt. Governor, he served eight years as Ohio's Secretary of State where it was his mission to make it "easy to vote and hard to cheat" while making Ohio the easiest and least costly state in the Midwest to start a business.
Jon's life started in a foster home before he was adopted by his loving parents, Jim and Judy. He is the oldest of three children and was raised in Northwest Ohio's Williams County. The small community instilled in him the importance of faith, family, and hard work that serve as the foundation of his public service.
Of all his responsibilities, Jon considers his most important role as that of a loving husband to his wife Tina, and father to Alex, Katie and Kylie.
Jon Husted believes that work, personal responsibility, family, faith and freedom are at the core of what has made America great, and he will defend and advance those values for every Ohioan.
As Lt. Governor, Jon Husted has been a champion of career, technical and vocational education and training to help tens of thousands more Ohioans a year prepare for quality, higher-paying jobs without the burden of college debt.
Through programs like TechCred, Ohio's premier upskilling program, businesses can connect their employees with training that will make their company more competitive. The program serves as a promise kept by the administration to fund over 10,000 technology-focused credentials in one year, a number that continues to increase.
Governor DeWine and Lt. Governor Husted committed to using technology to deliver better services that save Ohioans time and money, while promoting a healthy economy and a more streamlined, efficient state government. They founded InnovateOhio, which seeks to make Ohio the most innovative and entrepreneurial state in the Midwest.