On This Page
Nan Whaley for governor
Nan grew up in a small town in Indiana. She learned the values of hard work, strength, and resilience from her dad, a union autoworker who lost his job but never lost his dignity, and her mom, who went to work at the laundromat behind their house to help make ends meet.
Back then, Ohio was where people went for opportunity, so she attended the University of Dayton, becoming the first person in her family to graduate from college. She met her husband, Sam, and fell in love with her adopted hometown, eventually running for City Commission and mayor.
When Nan was first elected Mayor in 2013, Dayton was at a low point. The factories had moved out and the opioids had moved in. But in Dayton, folks don't run away from their problems.
Under her leadership, Dayton has turned a corner. She brought folks together to take on the community's toughest challenges, including tackling the opioid crisis, cutting overdose deaths by half and saving hundreds of lives. She led the fight to take on a broken education system and provide quality pre-k to every three- and four-year-old in the city. Dayton has become vibrant again as new people and businesses move into the city.
When you're the mayor, you don't have the luxury of saying, "that's not my problem." Over the last two years, Dayton has been tested again and again with crises like a KKK rally, a series of devastating tornadoes, and a senseless mass shooting that left 9 people dead. Each time, Nan stepped up and led her city through its hardest moments.
Now, Nan is running for governor because she knows our state is fundamentally broken and Ohioans deserve better. The same special interests and corrupt politicians have been in charge for 30 years as our state has fallen further behind. Rich campaign donors get rewarded while the rest of us fall further behind. The only answer is a total overhaul.
Nan knows we can build a better Ohio. An Ohio where one job is enough to provide for your family. An Ohio where your kids have real opportunities. An Ohio where everyone — no matter your zip code — can thrive.
VISION
Ohio is a state of innovation and creativity. Of inventors and astronauts. We led the last manufacturing revolution and there's no reason we can't lead the next one. We have everything it takes.
Nan is ready to give every Ohioan, regardless of what they look like or where they live, a real chance at opportunity. And if we come together, we can create a future where everyone can live up to their potential.
Nan's message for Ohio is this: She wants your pay to go up, your bills to go down, and your government to work for you.
Jobs Plan
The story of America's 20th Century is the story of Ohio. People came here for opportunity — immigrants from abroad, migrants from Appalachia and the Jim Crow South. We were home to inventors like the Wright Brothers, Garrett Morgan, and Thomas Edison, and pioneering companies like National Cash Register, Goodyear Rubber, and Republic Steel. Good, union jobs in manufacturing built our middle class and the natural resources, transportation, and supply chains supporting these industries ensured this prosperity stretched all over our state.
But for thirty years, our political leaders have allowed Ohio to fall further and further behind, choosing complacency over tough, honest conversations about the future of our state.
Ohio is at a crossroads. The world is changing — new industries and technologies are creating the good-paying jobs of the future. We can either adapt and change with it, or be left behind.
Nan is running for governor because she believes Ohio deserves better. We deserve a state where one good job is enough to provide for our families; where our kids and grandkids have opportunities; where we lead the nation in innovation.
This new Ohio can do even better than we have in the past, ensuring that the benefits of good jobs are available to everyone, no matter their race, sex, or zip code. To get there we have to be laser focused on growing the jobs of the 21st Century, supporting Ohio entrepreneurs, and raising wages for all Ohioans.
Ohio's people are at the center of its economy — how Ohio's people are doing around their kitchen tables each day is what matters most to Nan. That's why Ohio's families are at the heart of Nan's jobs policy.
Ethics
Ohio is at a crossroads. Decades of Republican control of state government has led to scandal after scandal. More often than not, the same politicians, lobbyists, and GOP consultants re-appear in each new abuse of power, but never face repercussions. Each scandal seems worse than the last, but the basic formula stays the same: Republican elected officials enriching themselves and their allies while the rest of us foot the bill. This culture of corruption has culminated in the most egregious scandal in Ohio's history, and the biggest statehouse scandal in the country: the $61 million HB 6 bribery and racketeering scheme that reaches the highest levels of Ohio government.
These scandals — from Coingate, to ECOT, to HB 6 — are devastating for our state. Not only do they undermine confidence in our government as a force for good, but they literally cost Ohioans money through misdirected funds and increased costs.
Republican politicians like Governor Mike DeWine have looked the other way while Ohio has become the worst state in the country for public corruption. They have personally and politically benefited from this broken, pay-to-play culture and are too weak to stand up to it. If Gov. DeWine or other Republicans had the power or the will to fix these problems, we would have seen action by now.
Enough is enough. Nan Whaley is running for Governor to clean up this mess and restore public trust.
Environment
As the mayor of Dayton, Nan has fought to protect the region's drinking water from polluters. As governor, she will fight to protect Ohio's environment to ensure that our kids have access to clean water, clean air, and clean jobs. Our natural resources helped create the prosperity our state saw in the 20th Century, but often at great costs to local communities. Nan has signed on to the Marshall Plan for Middle America, a regional roadmap to drive equitable infrastructure development in the Ohio Valley, and is committed to ensuring that the clean energy jobs of the future are available all across Ohio, especially in Appalachia.
In addition to increasing electricity bills for Ohio families and businesses, the corrupt House Bill 6 also gutted Ohio's renewable energy standards. This is unacceptable. As governor, Nan will fight to fully repeal this awful law and put these standards back in place so that Ohio is positioned to thrive in the new clean energy economy. She'll stand up to extremist politicians and make sure that the technology of the future is built right here in Ohio.
Abortion
Ohio Republicans have made it clear that they'll ban abortion in our state — which is why, now more than ever, Ohio needs a pro-choice Democratic Governor. If the majority on the U.S. Supreme Court gets their way, the next Governor of Ohio may be the last line of defense protecting abortion rights in our state. As Governor, Nan will never waiver on her commitment to choice.
When Ohio's medically unnecessary transfer agreement threatened to shutter the Dayton-area Women's Med Center, Nan worked with community members, doctors, and lawyers to set up a variance agreement so that abortions could resume. She believes that actions speak louder than words — and that's why she's proud to be the only candidate in this race, Republican or Democrat, who has always stood up for Ohioans' right to choose.
Education
Nan knows that the greatest investment we can make is in our children. When she became mayor of Dayton, it was clear the city needed to plot a new path forward for its kids to be able to break out of poverty and to compete in the 21st Century economy. Most mayors in Ohio don't control local school districts, including Dayton, but the data showed that Dayton children were entering kindergarten unprepared and that a lack of childcare options was a huge burden for families.
Nan brought together the ingenuity of business, community, and education leaders to figure out a solution. In 2016, Dayton voters approved their plan to fund universal, high-quality preschool for every four year old in the city. It has been so successful that this summer, it was expanded to include all 3 year olds in the city. In just a few short years, we've already seen significant improvement in Dayton students.
As governor, Nan will keep this same focus on education. She'll work to strengthen our K-12 schools and maintain hard-fought funding reforms — our system is designed so that Ohio's governor has more power to impact local schools, something Mike DeWine has failed to do. Using Dayton's Preschool Promise as a model, she'll make high-quality, universal preschool available to all Ohio kids. And she'll fight to make community college and trade schools more affordable and accessible so that every Ohioan can get the skills they need to succeed.
Families
Growing up, Nan's dad got laid off from his job at a GM plant. Her mom had to go to work at the laundromat behind their house to help make ends meet. That experience has made her believe in her bones that when we talk about the economy, we have to talk about people, not numbers and statistics. Ohio's people are at the center of its economy — how Ohio's people are doing around their kitchen tables each day is what matters the most. That's why Ohio's families are at the heart of every decision she makes.
No matter where you live or what you look like, no one should have to choose between paying their bills and taking care of their kids or family members. The COVID-19 crisis made this even more clear. Too many Ohio families are just one illness or injury away from financial disaster. This has to change. Under Nan's leadership, Dayton was the first major Ohio city to offer paid parental leave for municipal employees. As governor, she'll fight for paid family leave for all Ohioans.
Veterans
Ohio has one of the highest populations of veterans in the United States, and we owe these men and women more than a day of recognition each November — we owe them our full support in their return to civilian life through all its phases: reentry, community choice, job search, family support, and aging. Just as Ohio is a location of choice for defense facilities and bases — Wright Patterson Air Force Base, ISC Cleveland Coast Guard Base, and Youngstown-Warren Air Reserve Station — we must become a location of choice for veterans when it is time for them to leave service.
Nan's policy is guided by the belief that all veterans living in are Ohio are entitled to:
The right to live in health and age with dignity;
The right to a job and the tools to thrive;
The right to shelter and housing;
The right to justice. Under Nan's leadership as Governor, Ohio will once again honor its sacred obligation to our veterans and their families.
Appalachia
Ohio's true power and vibrancy comes from its communities, and those communities must be at the center of state policy and budget priorities. Appalachian Ohio has not seen investment at scale for over 50 years and has suffered population losses throughout the region. As Governor, Nan would make it a priority to build a true partnership between the state and local governments, so that we can finally give Appalachia the investment it deserves.
The core tenets of Nan's plan to invest in Appalachian Ohio include:
Fulfilling the Broadband Promise: Universal broadband in Appalachia by 2028
Addressing the opioid crisis
Building a powerful base for Appalachian jobs and innovation
Supporting our veterans
Lowering Drug Prices
No Ohioan should have to choose between keeping food on the table and paying for life-saving medicine, no matter where they live in our state. Yet for too many, and for too long, the prescription drugs they need are being priced out of their reach, while wealthy drug companies are seeing record profits. Research has shown that drug prices in the United States are two to three times higher than other developed countries and that the increase in prices has not been driven by any clinical evidence, all while drug company CEOs line their pockets with increased profits.
Nan knows this is unacceptable and that's why, once elected, she'll fight to lower drug prices for Ohio families.
Inflation Rebate
Ohioans are seeing the cost of nearly everything increase – from record-high gas prices to increasing costs for groceries and other necessities like baby formula. As Governor, Nan would fight to make Ohioans' bills go down and their pay go up. That's why Nan and Cheryl have a plan to help Ohioans struggling with increased costs by sending an inflation rebate of $350 to every middle-class Ohioan.
Ohio is set to receive $2.68 billion in the next round of federal funding from the American Rescue Plan. Nan proposes the State of Ohio should use that money to help struggling Ohio families deal with increased costs in their everyday lives. The rebate would go to roughly 7.4 million Ohioans, the same individuals who received federal stimulus checks, and which accounts for 89 percent of adults in the state. Individuals making up to $80,000 a year or couples making $160,000 a year or under would be eligible to receive the rebate, at $350 or $700, respectively.
The truth is, while some politicians try to divide and distract us, Ohio families are being gouged by big corporations. While working people are struggling to keep up with rising costs, corporate profits are hitting record highs. CEO pay grew 31% in 2021. It's not right. We need to make an investment in Ohioans by putting money back in their pockets and this inflation rebate would do just that.
Gun Safety
No matter where you live in Ohio, you deserve to feel safe. But for too many people, gun violence makes them fear going to school, the grocery store, or just walking down the street. Nan knows first hand the devastating impact gun violence can have on a community. As the Mayor of Dayton, she had to lead her city through a senseless mass shooting that took nine lives. As governor, Nan is committed to finally "Do Something" to make our communities more safe.
Again and again, Gov. Mike DeWine has ignored police, teachers, and gun safety advocates by signing dangerous bills like Stand Your Ground, permitless concealed carry, and arming teachers. Nan will work to repeal these dangerous bills and pass commonsense laws like universal background checks and red flag laws.
Energy and Environment
After nearly three decades of Republican leadership and corruption under Governor DeWine, Ohio is losing out to other Midwestern states when it comes to creating the good-paying, clean energy jobs of the future. States like Michigan and Pennsylvania are building more wind farms, deploying more solar panels, driving higher energy efficiency, and preparing for the quickly expanding electric vehicle market while Ohioans are stuck losing jobs and paying a corruption tax for failing fossil fuel plants, including one in Indiana.
Ohio's workers are the best in the world. We should be taking advantage of the skills of our workforce to harness the clean energy surge happening across the nation. But, to do so, we need a Governor who is focused on making that happen – not enriching their big utility campaign donors.
Nan and Cheryl also want your bills to go down. Ohioans are understandably concerned about the affordability of their energy – from prices at the pump to monthly heating and cooling bills to their electricity costs. Ohio needs policies that will stabilize and reduce costs to families and businesses. Ohio has what it takes to drive our economy with new, clean and renewable fuels. If we do not reduce our reliance on global oil, international events will determine our cost and supply and threaten our pocketbooks.
Ohio deserves better. Nan Whaley and Cheryl Stephens have a plan to make Ohio the leader it should be in this sector and to lower energy costs for Ohioans.
About Lieutenant Governor Candidate Cheryl Stephens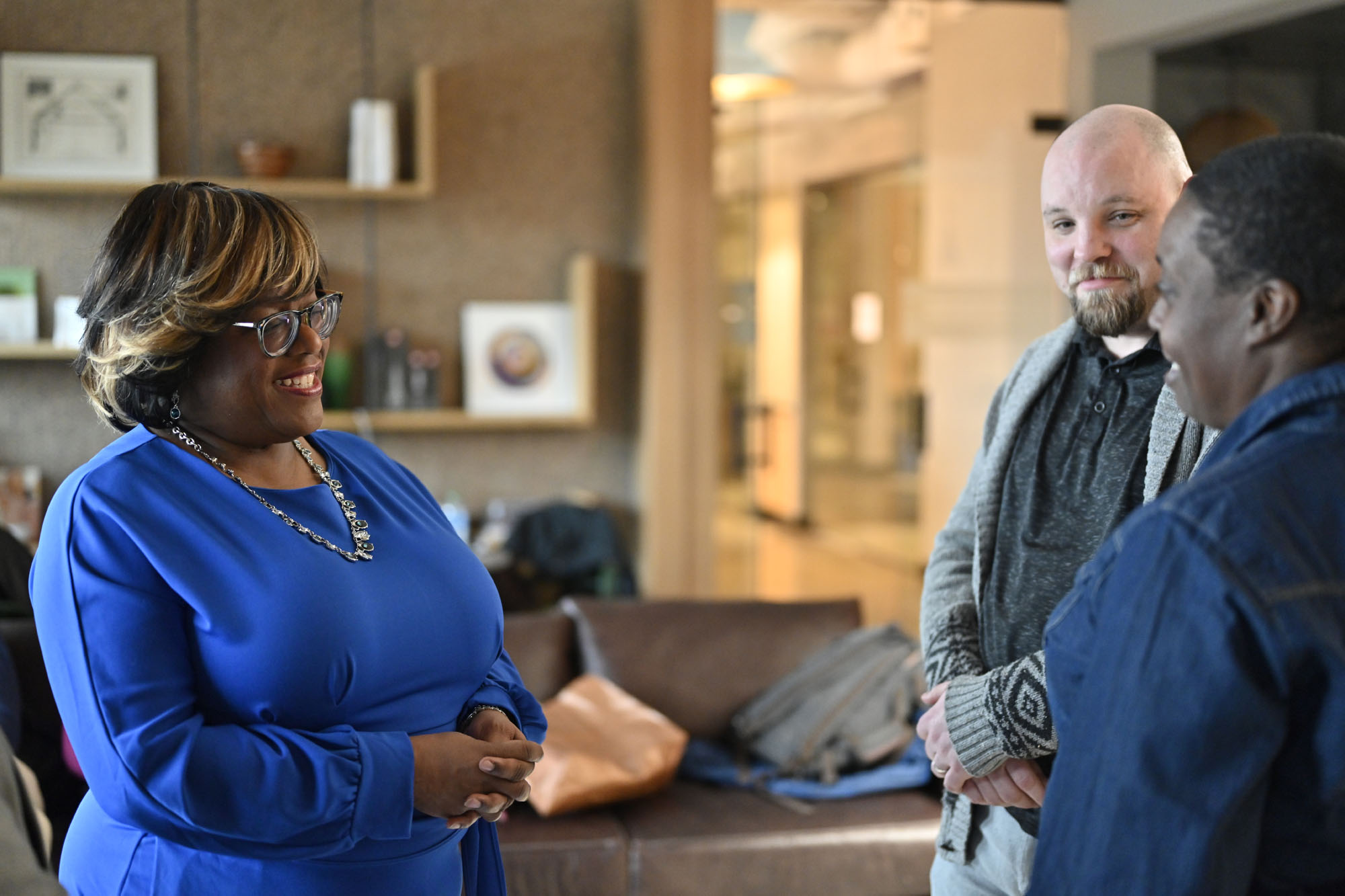 While growing up, Cheryl's family lived across the country and around the world as they followed her father's career in the Air Force. She considers herself lucky to have found a home in Ohio when her father retired to Wright Patterson Air Force Base outside of Dayton. Cheryl learned the importance of education from her mother, a nurse, and of the perseverance to pursue the American Dream from her father.
Cheryl and Nan firmly believe that the American Dream should be within reach for all Ohioans. That's why Cheryl has made building affordable housing and creating safe and healthy neighborhoods the focus of her career.
She is currently the Chief Executive Officer of the East Akron Neighborhood Development Corporation (EANDC), which strives to strengthen communities by providing affordable housing and neighborhood revitalization. Cheryl is also the Councilmember for Cuyahoga County District 10, where she focuses on improving county services and increasing investment in local small businesses. Cheryl has previously served the residents of Cleveland Heights as a Councilmember and Mayor.