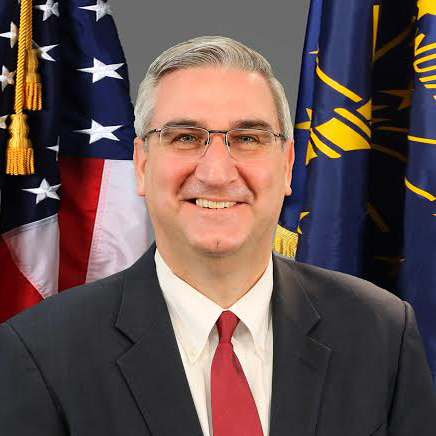 governor Eric Holcomb Contact information
Here you will find contact information for governor Eric Holcomb, including email address, phone number, and mailing address.
| | |
| --- | --- |
| Name | Eric Holcomb |
| Position | governor |
| State | Indiana |
| Party | Republican |
| Born | May 2, 1968 |
| Entered Office | January 9, 2017 |
| Terms1 | January 9, 2017 - Current |
| Term expires | |
| Mailing Address | State House Room 206 Indianapolis, IN 46204-2797 |
| Phone number | 317/232-4567 |
| fax 1 | 317/232-3443 |
| email | Email Form |
| Website | Official Website |
contact Governor Eric Holcomb
Governor Eric J. Holcomb is the 51st Governor of Indiana. A lifelong Hoosier, Gov. Holcomb is a veteran of the United States Navy, served as the state's 51st Lt. Governor, was a trusted advisor to both Gov. Mitch Daniels and Sen. Dan Coats, worked for Congressman John Hostettler and is a former state chairman of the Indiana Republican Party. He was elected governor in November 2016. The governor is a graduate of Pike High School in Indianapolis and Hanover College in southeastern Indiana where he majored in U.S. History with a focus on the American Civil War and the Reconstruction Era. He is a collector of presidential signatures and currently has documents signed by all 44 of our nation's presidents.
Eric Holcomb for governor
On This Page
Eric Holcomb is Indiana's 51st Governor, but you're just as likely to find him on the basketball court (he's made a basket in all of Indiana's 92 counties) or at a local diner or gathering place (like the Cone Palace in Kokomo) as you are the Statehouse. Eric is laser-focused on fighting this pandemic and building One Indiana for All. That's centered on growth, opportunity, and – as Eric says – is "people, people, people."
For Eric, it's about getting our economy Back on Track while protecting the health of Hoosiers. It's about helping Hoosiers build the skills they need to land a good-paying job. It's about helping Hoosiers rid themselves of a drug dependency, so they can lift up themselves and their families. And it's about keeping Indiana the fiscal envy of the nation and delivering great government service at a great taxpayer value.
Education
BA, United States History, Hanover College, 1990
Political Experience
Governor, State of Indiana, 2017-present
Candidate, Governor, State of Indiana, 2020
Lieutenant Governor, State of Indiana, 2016-2017
Candidate, Indiana House of Representatives, District 64, 2000
Professional Experience
Author, "Leading the Revolution"
State Chief of Staff, United States Senator Dan Coats, 2013-2015
Campaign Manager, Mitch Daniels for Governor, 2007-2008
Office Manager, Senior Staff, United States Congressman John Hostettler, 1999-2000
Campaign Manager, Friends of John Hostettler, 1998
Yeoman, United States Navy, North Atlantic Treaty Organization (NATO) War Headquarters, 1994-1997
Yeoman, United States Navy, Squadron VS-27, 1991-1994
Religious, Civic, and other Memberships
Member, American Legion, Post 777, present
Member, Benjamin Harrison Presidential Site Board, present
Member, Indiana Farm Bureau, present
Member, Indianapolis World War II Round Table, present
Member, Jobs for America's Graduates Board of Directors, present
Member, National Federation of Independent Business, present
Policy Chair, Republican Governors Association, present
Former Chair, Jobs for America's Graduates
Former Member, Knox County Pachyderm Club
Participant, Leadership Knox County
Former Member, Library of Congress Local Legacy Project
Former Member, Old Northwest Territory Corporation Board
Former Member, Spirit of Vincennes Rendezvous Committee
Former Member, Veterans of Foreign Wars Post 1157
Former Member, Vincennes Historical & Antiquarian Society
Former Member, Vincennes Kiwanis Board
State Chair, Indiana Republican Party, 2011-2013
Member, Friends of Terry Mooney for Mayor Campaign Committee, 1999
Share This Page