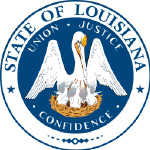 Louisiana State Government
Contact information for the Louisiana governor.
| | |
| --- | --- |
| Official Name: | Louisiana |
| Governor: | John Bel Edwards |
| Contact: | Contact the governor |
| Main Address: | P. O. Box 94004 Baton Rouge, LA 70804-9004 |
| Phone Number: | 225-342-7015 |
Louisiana became the 18th state to join the Union on April 30, 1812. Louisiana's first senator, Allan Magruder, took office on September 3, 1812. Jean Destrehan was elected to the second Senate seat, but resigned before assuming the position. The state legislature then elected Thomas Posey, who took office on October 8, 1812. Louisiana's longest-serving senators include Allen Ellender (1937-1972) and Russell Long (1948-1987). The son of Senator Huey Long, who was assassinated in 1935, and Senator Rose M. Long, who took the seat following her husband's death, Russell Long holds the distinction of being the only senator preceded in office by both parents. Among those who rose to leadership positions is Allen Ellender, who served as the Senate's president pro tempore.
Contact Louisiana Governors
Former governors
Contact Louisiana Senators
Contact Louisiana Representatives