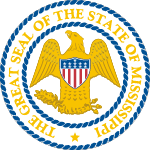 Mississippi State Government
Contact information for the Mississippi governor.
Mississippi became the 20th state to join the Union on December 10, 1817. Mississippi's first two senators, Walter Leake and Thomas Williams, took office on that day. Mississippi's longest-serving senators include James Eastland (1941; 1943–1978), John Stennis (1947–1989), and Thad Cochran (1978–2018). Among those who rose to leadership positions are Trent Lott, who served as Republican leader and party whip, and Thad Cochran, who served as Republican Conference secretary and chairman. The first two African Americans to serve in the Senate were from Mississippi: Hiram R. Revels and Blanche K. Bruce.
Contact Mississippi Governors
Former governors
Contact Mississippi Senators
Contact Mississippi Representatives