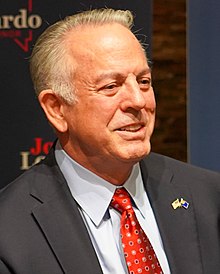 governor Joe Lombardo Contact information
Here you will find contact information for governor Joe Lombardo, including email address, phone number, and mailing address.
| | |
| --- | --- |
| Name | Joe Lombardo |
| Position | governor |
| State | Nevada |
| Party | Republican |
| Born | 1962 |
| Entered Office | January 7, 2023 |
| Terms1 | |
| Term expires | |
| Mailing Address | Capitol Building Carson City, NV 89701 |
| Phone number | 775/684-5670 |
| fax 1 | 775/684-5683 |
| email | Email Form |
| Website | Official Website |
contact Governor Joe Lombardo
Joe Lombardo began his service to others in the United States Army and served bravely in the Army, National Guard, and Army Reserve - protecting Americans both domestically and abroad.
Joe Lombardo for governor
On This Page
Born in Japan in a military family, Governor Joe Lombardo spent his childhood growing up across the world, until his father was stationed at Nellis Air Force Base and his family put down roots in Las Vegas.
Governor Lombardo attended Rancho High School in North Las Vegas, before going on to attend the University of Nevada, Las Vegas, where he earned his Bachelor of Science degree. After graduating, he served in the United States Army and in the Nevada National Guard.
Following his military service, Governor Lombardo joined the Las Vegas Metropolitan Police Department (LVMPD), where he quickly rose through the ranks and served on nearly every level of LVMPD, from detective to assistant sheriff. While serving at LVMPD, Governor Lombardo earned his Master of Science in Crisis Management from the University of Nevada, Las Vegas in 2006.
After 26 years on the force, Governor Lombardo was elected as Sheriff of Clark County in 2014 and re-elected in 2018. As the sheriff of Nevada's largest county, he oversaw a $1.3 billion dollar budget, 6,000 employees, and LVMPD's efforts to protect millions of Clark County residents and visitors each day.
Governor Lombardo was elected as the 31st Governor of Nevada in November 2022 and sworn into office in January 2023. Governor Lombardo is focused on diversifying and revitalizing Nevada's economy, restoring law and order in communities across the state, and bringing excellence, school choice, and accountability to Nevada's education system.
More important to him than anything, Governor Lombardo is a devoted husband to First Lady Donna Lombardo, a dedicated father to his daughter Morgan, stepdaughter Lacey, stepson Jackson, and a grandfather to his 1-year-old grandson Teddy
Diversifying Our Economy
It's become increasingly clear that we need to diversify our economy from just gaming and tourism, Nevada's two historically-dominant economic sectors. Like northern Nevada did with the Tahoe-Reno Industrial Center (TRIC), it's time for the rest of the state to look at new industries like manufacturing and technology. In order to bring new industries to the state, Nevada needs a skilled and trained workforce.
To build a skilled state workforce, Joe plans to invest in more workforce development programs in our education system and to partner with the private sector to enhance existing training programs.
With adequate investment, Joe believes that Nevada can become a regional leader in industries that require skilled workers, like welding, robotics, CNC cutting, coding, product design, and more.
Business Environment
In order to recruit new jobs and more companies to Nevada, Joe believes it's critical to put pro-business policies in place.
To start, Joe is committed to vetoing any unnecessary or burdensome regulations that would be a barrier to growth, profitability, and jobs for Nevada's businesses. Joe is also ready to evaluate ways to remove burdensome regulations that are already in place. Joe is committed to playing an active role in the recruitment of new businesses to Nevada and the growth of those already here.
Joe also believes that we need more transparent and efficient processes for licensing and inspections, so that we can streamline business processes in the state.
Lastly, Joe believes that Nevada's lack of affordable housing and broken education system are preventing new jobs from coming to Nevada. Joe is ready to develop innovative solutions for affordable housing and restore accountability in our education system, so that Nevada can be one of the best places to start a business and raise a family.
Get Government Back to Work
Steve Sisolak has allowed thousands of state employees to continue to work from home more than two years after the start of the pandemic. Not only that, but under Steve Sisolak, state agencies no longer answer the phone and the DMV recently announced that you can no longer show up in person. As governor, Joe will get the government back to work for you. Joe believes that Nevadans deserve accessible and efficient service from the state government that their own tax dollars pay for!
EDUCATION
Nevada's education system is ranked as one of the worst in the entire country. Our education system is failing our students and teachers, and systemic change is long overdue. On day one, Joe is ready to get to work and bring back accountability to our education system.
School Choice
Joe believes that a student's zip code shouldn't determine the quality of their education.
To ensure every child has access to the best education possible, Joe will implement school choice initiatives that empower Nevada families. By expanding access to charter schools, providing more opportunity scholarships, and investing in Education Savings Accounts, Joe believes that we can make our education system work better for every student and every family.
Essential Programs
Over the last four years, Steve Sisolak has cut and gutted essential programs, like Read by Grade Three, class size reduction efforts, and the Knowledge Fund.
Joe will re-prioritize and re-institute pivotal educational programs like Read by Grade Three that have been proven to give students a better chance at success.
Workforce Development
Joe believes that every student is different and that students and families should be able choose what educational opportunity works best for them. Joe believes that expanding vocational training and workforce development programs are an essential part of giving students more educational opportunities.
Joe believes Nevada needs to focus on job and career training not only for the jobs of today, but for jobs of the future. Joe will work with the private sector and the Governor's Office of Economic Development to expand workforce development training programs to more students across the state.
School Safety
Over the past four years, there has been a 46% increase in harassment, threats, and sexual assaults within Clark County School District. This year, teachers were brave enough to speak out to demand that Steve Sisolak do something about it, but Sisolak didn't even bother to respond.
Joe believes there should be zero tolerance for violence against students and teachers. As governor, Joe will work with the Nevada State Legislature to repeal "restorative justice" measures, which have made our schools demonstrably less safe. Joe will also implement school safety training and support programs, and he will ensure that there are adequate resources for school safety initiatives and personnel.
Public Safety
Joe has spent his entire career protecting Nevadans, while Steve Sisolak has spent his career passing soft-on-crime policies, limiting the amount of police officers on the streets, and enabling career criminals.
After Joe was elected in 2014, he reduced overall crime in Clark County by 16.9% between 2015 and 2021. This year alone, violent crime is down 13% in Clark County. Joe has fought vigilantly against crime, but Sisolak's soft-on-crime policies have made it harder for the police to do their jobs.
As governor, Joe will reverse Sisolak's soft-on-crime policies and put an end to his dangerous legislation that makes our streets less safe. Joe believes fully funding the police is essential to public safety, and he will always support Nevada law enforcement.
Police Reform
Defunding the police is a radical, left-wing effort focused on prioritizing criminals, while putting the rest of us at greater risk. Joe will fight any effort to defund the police.
In the Army, Joe took an oath to protect and defend this country and our constitution. As a police officer…and later as Sheriff…he took another oath to protect our community and our values.
Joe is the only candidate in this race who has taken both of those oaths. Although anyone can say they'll keep us safe, Joe does it every day. That's important because this race is bigger than politics; it is about keeping Nevadans safe in an increasingly dangerous world.
Safe from Antifa. Safe from anarchy. Safe from socialism.
Joe will keep Nevada safe from Steve Sisolak's left-wing agenda and any attempts to take away our freedoms as Americans and Nevadans.
Joe has, and always will, support police reforms that focus on better recruitment and more extensive vetting and training of officers trusted with protecting our communities. Through Joe's own experience, he also believes that all police departments could benefit from a multicultural advisory council, like he has at Metro, that works to help law enforcement better understand and integrate with the communities they serve. Joe has also been a vocal advocate for finding more efficient and effective ways to handle mental health, social welfare, and victim advocacy calls and will continue to seek ways to address every issue with the right solution.
Joe is a staunch advocate for more officers on the street and actually has a track record of delivering. While Seattle, Baltimore, Chicago, and Portland gave into the mobs, Joe focused on keeping our communities safe. While Antifa and the anarchists created their own autonomous zones and destroyed great American cities, Joe focused on arresting and prosecuting every single person responsible for looting, rioting, damaging property, or attacking law enforcement officers. As our governor, Joe will bring the same commitment to protecting law-abiding Nevadans that he does every day as Sheriff.
America and Nevada are at critical crossroads. Joe won't surrender to the left-wing liberal push to defund the police or take away law enforcement's ability to keep Nevadans safe. Anyone who says otherwise - or wrongfully twists Joe's words for their own political benefit - lacks the honesty and integrity necessary to lead Nevada.
Right to Protest & The 2020 Riots
Joe set a new policy when he took office as Sheriff – that our rights are as important as someone's right to protest. Our streets were not blocked, our neighborhoods were not taken over, our businesses were not harassed because Joe made our rights as law-abiding citizens his priority. While other cities were burned, blockaded, even shut down… our community was civil and safe thanks to Joe.
Affordable Housing
The availability and affordability of housing are critical parts of developing a thriving and diversified economy. Yet under Steve Sisolak, Nevada currently ranks last in the country for its number of affordable and available rental units.
Nevada cannot grow without offering available and affordable housing to its new residents. Even with Sisolak's investment of federal dollars into affordable housing projects, this money will barely make a dent in the over 84,000 affordable housing units that are currently needed across Nevada. Nevada needs a long term plan to build out affordable housing infrastructure that will continue to serve Nevadans after federal funds run out.
Joe will immediately put government agencies on notice that they work for us. That permitting and licensing must be streamlined and housing projects specifically must be shovel ready immediately. Steve Sisolak's state government is a roadblock to affordable housing. Joe will change that on day one.
Joe will also direct the Governor's Office of Economic Development and the Nevada Housing Division to provide incentives and defer payments on land to be paid after development, so that we can get more affordable housing inventory built and ready for families.
Right now, home does not mean Nevada to as many people as it could or should. Joe is committed to making Nevada a place where current and future Nevadans can fulfill the American dream by not only providing access to affordable housing, but also ensuring residents can pay their rent without breaking the bank and have every opportunity to work toward owning a home.
Water & Environment
Having reliable water sources throughout the state is necessary for Nevada's economic growth and essential for the future of our state. Joe is committed to developing innovative plans to ensure Nevada has the water it needs for its current residents and for future growth. Unlike Steve Sisolak, Joe understands water needs vary by region in Nevada, and he recognizes that many people in rural Nevada have water rights for the purpose of ranching and farming, and it is essential to keep those water rights as is.
On top of a dwindling water supply in southern Nevada, hundreds of wildfires occur in Nevada each year. Years of unusually dry conditions and the spread of invasive plants have made our state particularly vulnerable to dangerous fire seasons. As governor, Joe will work directly with regional partners to take aggressive preventative measures against wildfires, and he will ensure our state has the necessary resources to protect Nevadans from wildfires.
Reproductive Health
Joe is Catholic and pro-life, but Nevadans decided long ago that the issue of abortion should only be decided by Nevada voters themselves. In 1990, Nevadans codified the right to an abortion in state law through a referundum, so that only voters could make changes to it moving forward. While Joe will always govern as a pro-life governor, he trusts the people of Nevada to make the important decision of what legislation to send to his desk.
Joe believes that access to contraceptives is an essential part of healthcare and preventing unwanted pregnancies. As governor, Joe will work to ensure that contraceptives stay accessible for Nevadans.
Election Integrity
In Nevada, you need an ID to drive, to buy alcohol and cigarettes, get a hotel room, board a plane, get a tattoo, open a bank account, apply for food stamps, apply for Medicaid, apply for Social Security, and to rent or buy a house…so Joe thinks it's only fair that you should have an ID to vote too.
As part of his Election Integrity Reform Package, Joe will introduce legislation that requires an ID to vote. Joe will also eliminate ballot harvesting, end universal mail ballots, and create a bipartisan panel to oversee our elections system.
Voting is one of our most important and sacred rights. As governor, Joe will always work to make it easier to vote, but harder to cheat.
Second Amendment
Joe Lombardo is the only candidate in the race for governor who has carried a gun every day for the past three decades. As a lifetime member of the National Rifle Association, United States Army veteran, beat cop, and now as Sheriff for the past eight years, Joe knows that an important part of keeping our communities safe is protecting the Second Amendment from those who wish to erode or even outright repeal it.
Background Checks
Joe supports the right of all law-abiding citizens to own a firearm if they so choose. Some politicians and advocates use background checks as a dog-whistle issue for political gain, but not Joe. Joe Lombardo believes that we have a responsibility as protectors of the Second Amendment and the constitutional rights it provides to enhance safety and maintain law and order. Joe believes that background checks should be efficient, inexpensive, and serve the singular purpose of keeping weapons out of the hands of criminals and those struggling with mental health illness – not as a vehicle for gun control advocates to restrict our Second Amendment rights. As governor, Joe will partner with national law enforcement agencies to protect our constitutional rights while lowering gun violence in Nevada.
Eliminating The Gun Registry
Joe campaigned on a promise to eliminate Clark County's Blue Card gun registry. Clark County was the only county in Nevada that required law-abiding gun owners to register their firearms until Joe Lombardo worked with County Commissioner Tom Collins, the State Legislature, and Governor Brian Sandoval to put an end to the gun registry in 2015.
Ghost Guns
Joe supports our right to build a firearm for personal use. Left-wing politicians are working hard to take away our right to create our own guns. As governor, Joe will veto any legislation that takes away that right.
Red Flag Laws
Joe believes that every American has the right to due process and is innocent until proven guilty. The job of law enforcement officers is to protect the citizens under their jurisdiction. The original intent of Nevada's Red Flag law is no longer its aim and actually makes it more difficult for officers to do their job. As governor, Joe will always look for ways to streamline government and remove antiquated laws, including Nevada's Red Flag law.
High Capacity Magazines and After-market Modifications
Joe believes that gun manufacturers design magazine capacities appropriately to maximize safety. Therefore, as governor, Joe would not sign any law restricting manufacturer limits on firearm magazines. To do otherwise would be a violation of the United States Constitution.
As a law enforcement officer, Joe has seen first-hand the devastation that can occur when weapons and after-market modifications fall into the hands of the wrong people. So, although Joe supports no restrictions on manufacturer limits, he has been a vocal opponent of bump stocks and other modifications that make weapons more dangerous and criminals more difficult for law enforcement to apprehend. As Joe has repeatedly said, "Sometimes that one or one and a half seconds when a shooter is changing a magazine or reloading is the only opportunity for law enforcement to advance and apprehend" the bad guy.
Part of protecting our right to own and bear arms is the responsibility we have to keep those weapons out of the hands of criminals who wish to do us harm. Joe has spent his career doing just that and will continue to do so as governor.
Immigration and Sanctuary Cities
Joe believes in protecting and defending America's borders. As an Army veteran and as your Sheriff, Joe has protected our freedoms, values, and safety. He believes that our future depends on a legal immigration system that protects Americans, promotes our values, respects our laws, and defends our borders.
When the ACLU sued Clark County, and a liberal California judge sided with the ACLU to block the Las Vegas Metropolitan Police Department from using a federal database to learn the true identity of criminals, Joe knew he had to act. He could not ignore a court order, but he could get creative and improvise as Sheriff.
Joe and his officers have always been committed to putting the worst of the worst behind bars or turning them over to ICE for deportation. One left-wing organization and a California judge were not going to prevent Joe and his officers from doing their jobs. Joe used extra personnel and dedicated scarce resources to working directly with ICE to determine the identity of violent criminals in other ways. The ACLU may have blocked Joe and his team from using a database, but it didn't block them from other ways of getting these violent criminals off our streets.
While officers now must do some extra work, the number of violent criminals identified and turned over to federal authorities for deportation is nearly identical.
As the only candidate in this race to have put bad guys behind bars or deported violent criminals, Joe is opposed to sanctuary cities and will continue to do everything possible to keep us safe, and he isn't afraid to take on the left-wing advocates constantly trying to make that more difficult.
Share This Page