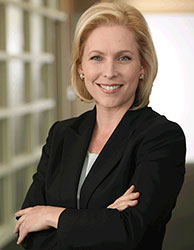 senator Kirsten E. Gillibrand Contact information
Here you will find contact information for senator Kirsten E. Gillibrand, including email address, phone number, and mailing address.
| | |
| --- | --- |
| Name | Kirsten E. Gillibrand |
| Position | senator |
| State | New York |
| Party | Democratic |
| Born | December 9, 1966 |
| Entered Office | January 26, 2009 |
| Term expires | January 3, 2025 |
| Mailing Address | 478 Russell Senate Office Building Washington DC 20510 |
| Phone number | (202) 224-4451 |
| email | Email Form |
| Website | Official Website |
Contact Senator Kirsten Gillibrand (D-NY)
Kirsten Elizabeth Gillibrand is an American lawyer and politician and a member of the Democratic Party. She has served as the junior United States Senator from New York since 2009, and was a member of the U.S. House of Representatives from 2007 to 2009.
Kirsten E. Gillibrand for senator
On This Page
ABOUT KIRSTEN
Senator Kirsten Gillibrand's top priorities in the United States Senate include creating more well-paying jobs to rebuild the middle class, increasing access to good, affordable healthcare and improving educational opportunities from pre-k to college or vocational training.
Throughout her time in the Senate, Senator Gillibrand has been a leader in some of the toughest fights in Washington. She led the effort to repeal the "Don't Ask Don't Tell" policy that banned gay people from serving openly in the military; she wrote the STOCK Act, which made it illegal for members of Congress to trade stocks on insider information; and she won the long fight to provide permanent health care and compensation to the 9/11 first responders and community survivors who are sick with diseases caused by the toxins at Ground Zero.
As the mother of two school age sons, Senator Gillibrand understands the challenges that working families are facing in today's economy. She is a champion for the economic empowerment of women and working families, and she has authored legislation to rewrite the rules of the workplace so it can keep up with our changing workforce. She is fighting to pass bills that would raise the minimum wage, make quality child care more affordable, and ensure equal pay for equal work. Senator Gillibrand also introduced the FAMILY Act, which would create a national paid leave program for all American workers for about the cost of a cup of coffee a week.
From her seat on the Senate Aging Committee, Senator Gillibrand is committed to fighting on behalf of seniors. She introduced a bipartisan bill to crack down on senior fraud, and is committed to ending the crisis of unacceptably expensive prescription drug prices. She's fighting to allow the Secretary of Health and Human Services (HHS) to negotiate lower prices for prescription drugs under Medicare Part D; to level the market for Americans purchasing prescription drugs; and to allow patients, pharmacists and wholesalers to import safe, affordable medicine from Canada.
Senator Gillibrand believes the tax system is broken, with too many special interests and billionaires not paying their fair share. She's sponsored legislation, the End Outsourcing Act, to stop companies from shipping jobs overseas, and supports rolling back the Trump tax bill that allows the most profitable companies in America to pay less in taxes than working people.
And Senator Gillibrand believes that accountability and transparency are essential to open and honest government. She was the first member of Congress ever to post her official daily meetings, earmarks, and personal financial disclosures online.
Senator Gillibrand is committed to keeping Americans safe from threats overseas and at home. From her seat on the Senate Armed Services Committee, she has been a vocal advocate for strengthening America's armed services, national security, and military readiness. As cybersecurity threats and attacks become more frequent, Senator Gillibrand will continue to fight for improving cybersecurity strategy and attracting the best and brightest cyber personnel. Senator Gillibrand is also garnering support for her War Powers Reform Act, which would prevent endless wars like those in the Middle East and Afghanistan by repealing the blank check written by the 2001 and 2002 Authorizations for Use of Military Force. The bill would also provide a limitation for future authorizations to sunset every two years unless the President comes back to Congress to request additional authority.
Senator Gillibrand is leading the fight to end the sexual assault epidemic in the military. As chair of the Senate Armed Services Subcommittee on Personnel, she has held several hearings on sexual assault in the military, bringing together survivors and experts to advocate for change in the military justice system. A bipartisan coalition of Senators supports her bill, the Military Justice Improvement and Increasing Prevention Act, which would remove sexual assault cases and other serious crimes out of the chain of command and place those crimes into the hands of trained military prosecutors.
She is also fighting to end the gun violence epidemic. Senator Gillibrand supports common sense solutions, including universal background checks for every gun sale regardless of where the sale takes place, closing the "boyfriend loophole" that allows abusive partners to purchase firearms, banning assault weapons and high capacity magazines, and establishing red flag laws that would allow family members or law enforcement to petition a court to prevent someone in a crisis from purchasing a gun. She also introduced the Hadiya Pendleton and Nyasia Pryear-Yard Gun Trafficking and Crime Prevention Act, which would make it illegal to traffic firearms.
Senator Gillibrand has been a leader in Congress on issues related to PFAS contamination, and has fought for and passed several laws that help protect Americans from the harms of toxic PFAS chemicals and its threats to human and environmental health, including one requiring PFAS chemicals to be added to the EPA's Toxic Release Inventory, and another prohibiting the Department of Defense from using firefighting foam that contains PFAS.
On the Senate Select Committee on Intelligence, Senator Gillibrand represents the interests of New York, which has been the top terror target in the United States since before 9/11, and works closely with the NYPD and NY Department of Homeland Security to keep our state safe. She is also working to better prepare the nation for the barrage of cyber-attacks that have targeted local institutions and private businesses alike by focusing on hardening both public and private sector cyber defenses.
It's clear that lawlessness in the data privacy space can give rise to new, unexpected forms of injustice. Senator Gillibrand believes that our country is facing a data privacy crisis, and that Americans deserve to be in control of their own data. Senator Gillibrand leads landmark legislation, the Data Protection Act, which would create the Data Protection Agency (DPA), an independent federal agency that would protect Americans' data, safeguard their privacy, and ensure data practices are fair and transparent.
After attending Albany's Academy of Holy Names, Senator Gillibrand graduated in 1984 from the Emma Willard School in Troy, New York, the first all-women's high school in the United States. A magna cum laude graduate of Dartmouth College in 1988, Gillibrand went on to receive her law degree from the UCLA School of Law in 1991 and served as a law clerk on the Second Circuit Court of Appeals.
After working as an attorney in New York City for more than a decade, Senator Gillibrand served as Special Counsel to United States Secretary of Housing and Urban Development (HUD) during the Clinton Administration. She then worked as an attorney in Upstate New York before becoming a member of Congress.
Born and raised in upstate New York, Senator Gillibrand's home is in Albany, New York with her husband, Jonathan Gillibrand, and their two sons, Theo and Henry.
Share This Page