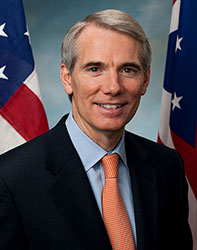 senator Rob Portman Contact information
Here you will find contact information for senator Rob Portman, including email address, phone number, and mailing address.
| | |
| --- | --- |
| Name | Rob Portman |
| Position | senator |
| State | Ohio |
| Party | Republican |
| Born | December 19, 1955 |
| Entered Office | January 3, 2011 |
| Term expires | January 3, 2023 |
| Mailing Address | 448 Russell Senate Office Building Washington DC 20510 |
| Phone number | (202) 224-3353 |
| email | Email Form |
| Website | Official Website |
Know more about Senator Rob Portman (R-OH)
Robert Jones Portman is an American politician, currently serving as the junior United States Senator from Ohio. A Republican, Portman previously served as a U.S. Representative, the 14th United States Trade Representative, and the 35th Director of the Office of Management and Budget.
Rob Portman for senator
On This Page
Senator Rob Portman Biograph
Senator Rob Portman is an American politician and attorney. He has been serving as a junior U.S. Senator from Ohio under the Republican since 2010. He also served as a member of the U.S. House of Representatives from 1993 to 2005.
Senator Rob Portman was born in Cincinnati, Ohio, on December 19, 1955. He graduated from the Cincinnati Country Day School in 1974. He then enrolled at Dartmouth College, where he earned a B.A. in Anthropology in 1978. He also earned a J.D. at the University of Michigan Law School in 1984. He also served as the president of the student senate during law school. After his Bachelor's degree, Senator Rob Portman worked on Bill Gradison's political campaign. After graduating from law school, he moved to Washington. There, he worked as an attorney for a private law firm, Patton, Boggs, and Blow. At Patton, Portman specialized in trade issues. He also worked as an associate at a law firm in Cincinnati.
Senator Rob Portman Career
Portman began his political career as an associate White House Counsel to former President George Bush in 1989. He also served as the deputy assistant and director of the White House Office of Legislative Affairs from 1989 to 1991.
In 1993, Portman ran for a seat in the U.S. House of Representatives. This was after Bill Gradison stepped down to assume another executive position. He defeated Bob McEwen in the Republican primary. In the general election, Portman defeated Democratic nominee Hornberger with 70% of the votes. He was re-elected six times till 2005 when he resigned to become U.S. Trade Representative. After a year, former President Bush nominated him for the Office of Management and Budget director. He served till 2007 and left the office.
After serving at the White House, he joined a law firm where he continued his international trade practice.
Yet, in 2009, Portman announced his desire to run for a seat at the U.S. Senate after Senator Voinovich's retirement. Fortunately, he won his primaries unopposed and got the support of the Tea Party. Portman won the general election and assumed office in 2011. He was elected again in 2016. But he announced he would not be seeking reelection in 2022.
Senator Rob Portman Accomplishments
Portman is a leading advocate for the balanced budget amendment. He has also supported laws and bills to reform the IRS, promote taxpayers' rights, and increase retirement savings. He also worked to reduce taxes and curb unfunded mandates.
Portman is also a strong advocate of environmental development and preservation. He has worked towards the reduction of harmful energy emissions while promoting economic development. He authored the Energy Savings and Industrial Competitiveness Act. The energy-efficient legislation was aimed at strengthening the economy and reducing pollution at the same time. Portman also introduced the Carbon Capture Improvement Act. It aimed at financing the buying and installation of carbon capture projects. This would allow the use of natural resources and the protection of the environment at the same time.
Portman has promoted partnerships between local business owners and stakeholders to promote economic development. He also authored the Career Act.
His administration also boasts of effective trade, defense, and foreign policies.
Senator Rob Portman Criticisms
Portman is a known supporter of former President Trump. But, he renounced his support after the release of a tape where Trump bragged about assaulting women. Yet, he supported Trump after he won the elections.
Portman admitted Trump's attempt to blackmail Ukraine as inappropriate. Yet, he voted against his impeachment. Portman knows Trump was wrong about everything he did but couldn't do anything about it. He was also part of the Senators that sent a controversial letter to Iran. The letter warned the Iranian government against signing a nuclear deal with the U.S. government without Congress's approval. But, the letter got them under fire from the Obama administration and Congress.
Senator Rob Portman Net Worth
According to OpenSecrets, Senator Rob Portman's estimated net worth is $10.8 million. But, a large percentage of his worth is held in bonds and mutual funds. He has real estate holdings worth $1.4 million. He also has an investment with Lebanon House Inc. in Ohio.
Final Thoughts
Portman has earned a reputation as a result-focused and community service leader. He has also authored several laws and reforms in the service of his people and the development of his state.
But, Portman was criticized for supporting Trump despite several ethical and moral issues against Trump. He also got under fire for supporting the anti-nuclear deal letter sent to the Iranian government.
Reference
Share This Page