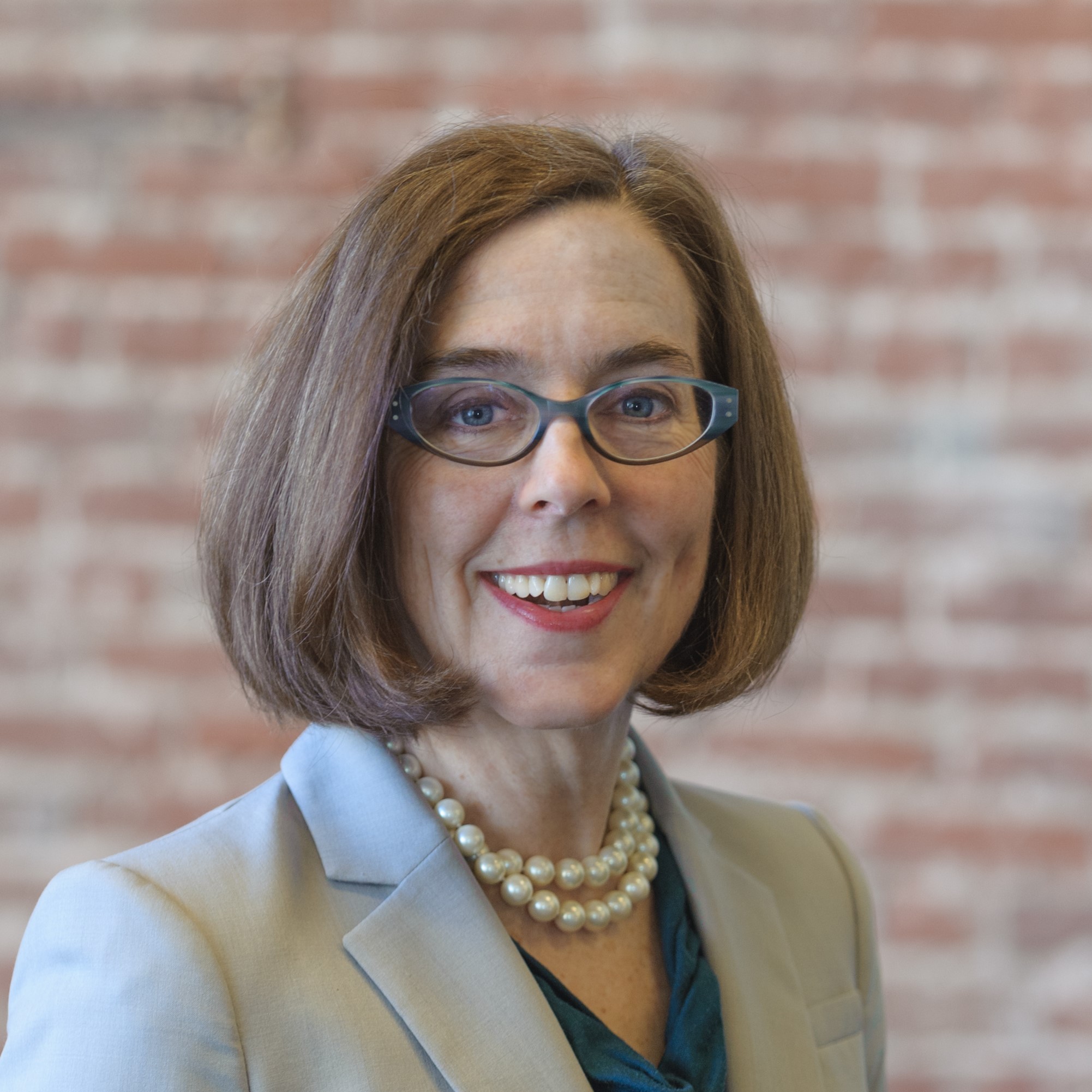 governor Kate Brown Contact information
Here you will find contact information for governor Kate Brown, including email address, phone number, and mailing address.
| | |
| --- | --- |
| Name | Kate Brown |
| Position | governor |
| State | Alabama |
| Party | Democratic |
| Born | June 21, 1960 |
| Entered Office | February 18, 2015 |
| Terms1 | February 18, 2015 - January 13, 2019 |
| Terms 2 | January 14, 2019 - January 14, 2023 |
| Terms 3 | |
| Term expires | |
| Mailing Address | State Capitol, Room 160 900 Court St. N. Salem, OR 97301 |
| Mailing Address 2 | |
| email | Email Form |
| Website | Official Website |
contact Governor Kate Brown
Kate Brown, Oregon's 38th Governor, has over 25 years of experience in standing up for working families and making government more accountable. Gov. Brown came to Oregon to attend Lewis and Clark's Northwestern School of Law, where she received her law degree and Certificate in Environmental Law. With her husband Dan, Brown raised Dan's son and daughter, who are now grown, in Portland. In February of 2015, Gov. Brown and her husband moved into the official residence, Mahonia Hall. When Gov. Brown is not busy at the capitol in Salem, you will find her out enjoying nature throughout Oregon.
Kate Brown for governor
On This Page
Oregon Governor Kate Brown Kate Brown is Oregon's 38th Governor, with nearly 30 years of experience advocating for working families and ensuring that every voice is heard in our democracy. As Governor, she dramatically expanded access to the ballot box with the nation's first automatic voter registration program, made historic investments in education, transportation, and affordable housing, and expanded the Oregon Health Plan to reach 94 percent of adults and all Oregon children so they have access to the quality health care they deserve.
Since Governor Brown took office in 2015, she has consistently worked to improve the lives of all Oregonians. Some of her accomplishments include:
Maintaining some of the lowest COVID-19 infection, hospitalization, and death rates in the nation throughout the pandemic, by taking swift action to contain the virus and leading Oregon's response using science and the recommendations of health experts to guide her decision making.
Ensuring Oregon has had a strong and equitable economic recovery from the pandemic, focused on the hardest hit communities; Negotiated a historic agreement between timber, environmental, and fishing interests to update the Forest Practices Act — essentially ending the decades-long timber war.
Set some of the most ambitious goals in the nation to comprehensively address climate change, reduce carbon emissions, and move to 100% clean energy sources.
Established Oregon's Racial Justice Council to, for the first time, truly center equity in policy making by bringing community voices to the table in a constructive way.
Established the Child Welfare Oversight Board and enacted reforms to improve outcomes and implement a new vision for Oregon's child welfare system.
Maintained Oregon as a welcoming and inclusive state for immigrants and refugees.
Enhanced protections against discrimination for the LGBTQIA+ community.
Prioritized equity in criminal justice reform.
Led Oregon through numerous emergencies, natural disasters, and crises.
Invested more in affordable housing and homelessness prevention than any previous Oregon governor.
Created the Council on Wildfire Response, which met for over a year and developed the framework for legislation passed last session to create more fire resistant. landscapes and help communities devastated by wildfires to recover and rebuild.
Increased the minimum wage.
Passed the Student Success Act, a historic investment in Oregon education, which will improve access and opportunities for students who have been historically underserved by the education system.
Expanded affordable health care to all Oregonian children and 94% of adults.
Led the nation by passing the most comprehensive reproductive health legislation at the time — Oregon's Reproductive Health Equity Act. — to protect and expand access to abortion and reproductive health services.
Served as a previous chair of the Western Governors Association; she focused on expanding a regional agreement on electric vehicle charging infrastructure across the West.
Governor Brown currently serves as the Chair of the Disaster Response and Emergency Management working group of the President's Council of Governors. She was nominated by President Joe Biden to the President's Council of Governors on July 8, 2021.
As the state grapples with the COVID-19 pandemic, Governor Brown is striving to protect the health and safety of all Oregonians, and build a safe and strong Oregon that works for everyone. And, as our nation grapples with the impacts of systemic racism, Governor Brown is committed to centering racial justice in a new vision for community safety, in the state budget and in her administration's agenda.
Governor Brown came to Oregon to attend Lewis and Clark's Northwestern School of Law, where she received her law degree and Certificate in Environmental Law. With her husband Dan, Brown raised Dan's son and daughter in SE Portland. When Governor Brown is not busy at the Capitol in Salem, you will find her playing out in nature with her dog, Jory.
Oregon's First Gentleman Dan Little
Dan Little grew up in Boulder, Colorado and later attended Colorado State University in Fort Collins where he met his spouse, Kate Brown, while she was attending the University of Colorado. After receiving his degree in Forestry Management, Dan began his career with the United States Forest Service as a Natural Resources Biologist in 1982 in western Colorado, and moved to Oregon shortly thereafter where he worked for the remainder of his career until retiring in 2015.
For the first 15 years, Dan worked in the field on various National Forests working on a variety of projects including vegetation inventories, managing tree planting and tree thinning projects, designing timber sales, developing environmental analyses and fighting forest fires. He eventually began developing databases and Geographic Information Systems (GIS) to inventory and analyze a wide range of natural resource conditions.
In 1998, Dan was hired by the Forest Service National Headquarters to assist in developing a nationwide computer system and national applications to manage all aspects of our national resources including vegetation conditions, wildlife, stream conditions, recreation activities, and wildfire activities. Dan worked as a project manager developing the systems, while creating national standards to more consistently gather information. In recent years, Dan has done incredible work in the statewide effort for the Oregon Outdoor Recreation Initiative — to make the outdoors accessible and affordable to all Oregonians, especially those from underrepresented communities.
Dan and Kate Brown were married in October 1997, and raised his two children, Jessie and Dylan in Portland. Dan became the First Gentleman of Oregon when Governor Brown was sworn in as Oregon's 38th Governor on February 18, 2015. They currently reside in Salem. In his spare time, he enjoys hiking, biking, and skiing along with attending events with Governor Brown.
Share This Page