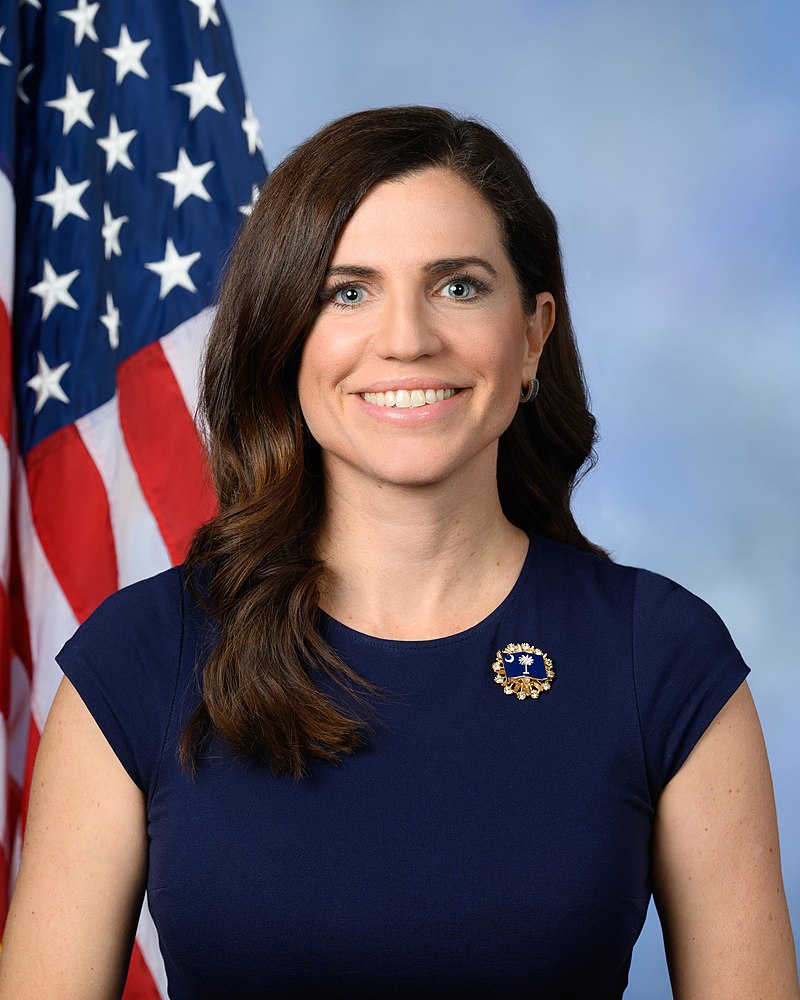 congress Nancy Mace Contact information
Here you will find contact information for congress Nancy Mace, including email address, phone number, and mailing address.
Contact Representative Nancy Mace
Nancy Ruth Mace is an American businesswoman, politician, and author who is the U.S. Representative for South Carolina's 1st congressional district. The district includes much of South Carolina's share of the Atlantic Coast, from Charleston to Hilton Head Island.
Nancy Mace for congress
On This Page
Congresswoman Nancy Mace grew up in the Lowcountry. She is the daughter of a retired Army General and retired school teacher.
Before being sworn into Congress, Nancy earned accolades as one of the most fiscally conservative members of the South Carolina General Assembly; she's also one of the most pro-conservation lawmakers in the state of South Carolina.
Nancy grew up in Goose Creek, S.C. And when she dropped out of high school at the age of 17, her parents said, "If you're going to stop going to school, you got to start going to work." She immediately became a waitress at the Waffle House on College Park Road in Ladson (exit 203).
Nancy earned her high school diploma a few months later by taking college classes at Trident Technical College in North Charleston.
She graduated magna cum laude from The Citadel, the Military College of South Carolina, where she was the school's first female to graduate from its Corps of Cadets in 1999. In 2004, Nancy earned a masters degree from The University of Georgia. Go, dogs!
She is the author of In The Company of Men: A Woman at The Citadel, published by Simon & Schuster in 2001.
In 2008, Nancy started her own company. Her background in business is in technology, PR & marketing and more recently commercial real estate before coming to Congress.
Nancy is the recipient of the 2019 Taxpayer Hero Award from the South Carolina Club for Growth; she has a 100% record of voting to lower taxes. Nancy is also the recipient of the Champion Award from Palmetto Goodwill in her efforts in education and in helping those most in need receive job training; she has a 100 percent lifetime rating with Conservation Voters of South Carolina.
Nancy is a single mom of two children ages 12 and 15. She also has two cats, Tyler and Tiger, and a puppy named Liberty.
WOMEN'S RIGHTS
1ST WOMAN TO GRADUATE FROM THE CITADEL
As the first woman to graduate from The Citadel, the military college of South Carolina, I might know a thing or two about equality and women's rights. I'm also the first republican woman ever elected to serve in Congress from the state of South Carolina. This historical event happened 100 years after women's suffrage. It took us 100 years to elect a female republican to Congress from our state!
Knowing the challenges for women from all walks of life, I am very clear in my positions protecting women and women's rights. We can do anything as long as we set our mind to it, have a dream, set our goals and work hard to achieve. We can do anything!
WOMEN'S RIGHTS IN SPORTS
Biological men should not compete against women and girls in sports. It's a total about face today, to see so-called feminists, like our opponent, support stripping away women's rights in sports.
Where are the feminists now?
Growing up I was a competitive swimmer and runner and I have a daughter athlete today. Biological men have completely unfair physical advantages over women and girls. Women have worked so hard to break so many barriers, I do not support biological men taking away women's rights in sports.
FINDING COMMON GROUND AFTER ROE
We can and we should seek to find common ground after the Dobbs decision. There is a way to protect women's rights and life.
The radical view of abortions for any reason up until birth is barbaric and not supported by the vast majority of Americans. Some say, that doesn't ever happen. But the fact is, up to 10,000 late term abortions happen every year. At the same time, however, there is no consensus on banning any and all abortions outright.
We need to elect those who acknowledge humanity, who acknowledge the challenges facing women and girls today, while also providing the resources to help women and girls everywhere.
RAPE SURVIVORS
As a survivor of sexual assault, I also understand the incredible hardships both physically and emotionally. These scars can last a lifetime. I will always support victims of rape and incest, as well as support crisis pregnancy centers to help struggling pregnant moms.
I was raped when I was 16. This moment changed my life forever. And this perspective is largely missing from those writing the laws we live by. Here are some thoughts on finding common ground after Roe.
This includes:
Protecting all exceptions for the life of the mother and women and girls who are victims of rape and incest.
Ensuring women's access to all forms of contraception, over the counter and without a doctor's visit.
Protecting invitro fertilization, D&C procedures for miscarriages, emergency contraception.
OUT OF CONTROL INFLATION
Inflation is at a 40-year high. And these prices are painful here in the Lowcountry when the cost of living is already through the roof.
The price of oil has doubled since the November 2020 election, all because of Biden's war on domestic energy production.
What could you and your family do if you didn't have to double the amount of money you pay to be able to commute to work or take your kids to school? It's costing Lowcountry residents an extra $50 every time to fill their cars. And these days $150 in groceries barely gets your kids through the weekend. It's obscene.
Inflation is taxation. Inflation is a tax on Lowcountry residents. Period.
END THE WAR ON DOMESTIC ENERGY INDEPENDENCE
Joe Biden declared war on US domestic energy independence the day he took office. Ever since it has been a non-stop march towards punishing American oil and gas and anyone who can't afford to buy a Tesla.
This doesn't just cost you twice at the pump – energy prices drive inflation!
And when the cost of gas goes up, the cost goes up for everything. Lowcountry residents need to commute to work, feed their families and provide for their basic needs. But everyday, it becomes more difficult because the cost of everything is sky high.
Ask yourself: what does Biden's war on domestic energy independence cost you every time you fill up?
BRINGING JOBS & OPPORTUNITY TO THE LOWCOUNTRY
A stable economy with good paying jobs are the keys to prosperity for Lowcountry families. Being a tireless advocate for jobs and economic investment to our district is hard work!
Recently it was announced a $20m announcement for South Carolina's first renewable natural gas project, which will be used as a part of the Mercedes-Bens plant in Ladson!
Walmart also recently opened up a Distribution Center, bringing over 1,000 jobs and $220 million in investment into the Lowcountry.
WINNING THIS ELECTION MATTERS
We can't take much more of this. Inflation is wrecking the economy, placed unnecessary hardship on the Lowcountry, and we're already seeing warning signs of recession.
Economics is far more than just numbers, it's about people and what they can do with the freedom they can afford under a stable, strong economy.
But with Nancy Pelosi in control of Congress and Joe Biden in the White House, things are only going to get worse.
We absolutely must take back the House in November and immediately begin passing bills that get our economy under control and put an end to Inflation once and for all.
We should:
Lower taxes
Balance the budget with the Penny Plan
Address mandatory spending burdens
Reduce burdensome regulations by repealing 2 regulations for every new one we create
End the war on domestic energy production
Restore fiscal responsibility to Washington
Four years ago, the Republican party lost this seat to a Democrat for the first time in nearly 40 years. In 2020, I proved I was the only Republican who could win this seat back in a swing district.
But we need your help to win another difficult election in a challenging district for Republican candidates.
SECURE THE SOUTHERN BORDER
Joe Biden's administration couldn't be more reckless in its border policies. Can you believe the President mandated vaccines for our troops and border patrol agents, while letting unvaccinated and untested illegal immigrants flood our border with COVID-19?
Biden allows millions of illegal immigrants into our country without vaccines, yet our troops are forced out of the military if they refuse the vaccine? It makes no sense.
It's not putting America and its citizens first.
STOP TAKING VA RESOURCES AWAY FROM VETS AND SENDING VA DOCTORS TO ILLEGAL IMMIGRANTS
Not only is Biden prioritizing illegal immigrants over our troops, he's doing the same to our veterans who served with honor and distinction.
Our VA Hospital doctors are already overworked, and now the Joe Biden administration is going to take VA doctors away from treating veterans to help with the surge of illegal immigrants that is expected when Title 42 goes away?
SECURE OUR BORDER
We need strong leaders who will do what's right.
On the House Oversight Committee, and under Pelosi's control, leadership on the Oversight Committee held only one single hearing on our nation's border.
Just one.
Want to guess which border that was?
It was a hearing about the northern border, where we apprehend less than 10,000 illegal immigrants a year.
Did we have a single hearing on our southern border, which saw oveer 2 MILLION crossings last year alone?
SHOULD WE FINISH THE WALL?
Even Joe Biden understands building the wall is necessary (atleast in Arizona).
PUT PARENTS IN CHARGE
PUT PARENTS IN CHARGE OF THEIR KIDS' EDUCATION
Parents understand the education system doesn't think they know what's best for their children. And as a single working mom, it is overwhelming to watch stories unfold across the nation about:
Lawless mandates
Divisive Critical Race Theory
Biological males competing in women's sports
Radical ideology in the classroom
Parents don't want the education system to instill radical values in their children – they want education to prepare their kids for a future where they can get a good job and provide for a family of their own one day.
But sadly that's just not the case these days.
Education is an important component of growing up and achieving the American Dream. And education is a way to bring people out of poverty. But parents instead see schools teaching ideology, not teaching their kids for the future.
KEEP BIOLOGICAL MALES OUT OF WOMEN'S SPORTS
Growing up I swam competitively, and my daughter is an athlete.
It is unfair to force women and girls to compete in sports against biological males, who have distinct physical advantages.
Everyone should have the chance to learn the valuable lessons that are taught on the court, field, track or pool, but those lessons are harder to learn when girls are forced to compete against those with a completely unfair advantage.
That's why I sponsored The Protection of Women and Girls in Sports Act to keep biological men out of sports for women and girls.
EXPANDING SCHOOL CHOICE
When parents have only one choice, they have no choices.
The simplest thing we can do to put parents in charge and give all Lowcountry children the best chance to achieve the American Dream is to expand school choice.
The benefits and fundamentals of school choice are well documented.
LOCAL CONTROL OVER THE CURRICULUM
Recently we held a hearing on the Oversight committee where I had the opportunity to ask three simple questions:
Should state superintendents of education determine curriculum for students?
What about school boards?
Do parents have a say in the curriculum of their kids education?
The far-left witnesses couldn't answer the question!
Why? Because they don't want to admit to their radical beliefs.
Joe Biden doesn't want parents to have control over what their children are reading and learning in school.
No parent wants to leave their children's school curriculum to distant bureaucrats – especially not ones who want to inject Marxist ideologies into our schools. Lowcountry parents should have control at the local level over what their children are being taught in school.
NO CRT
Critical Race Theory (CRT) is a Marxist ideology. No American public school system should be using taxpayer dollars to push Marxist ideologies on our children.
And our children don't need to be told that they are judged based on the color of their skin, not the content of their character.
This is wrong, and no parent should have to worry that their taxpayer dollars are going to brainwash their children with radical Marxist ideologies.
NO MANDATES
Additionally, mask and vaccine mandates are unconstitutional. Because of bureaucrats like Dr. Fauci, Lowcountry parents were forced to mask their kids until as recently as Feb. 28, 2022!
Parents should evaluate the science and make decisions for themselves and their families. In other words, parents, not the government, should make their own healthcare decisions.
MILITARY, VETERANS & SAVING PARRIS ISLAND
One of the most coveted jobs, as your member of Congress, is serving on the House Veterans Affairs Committee. And supporting our military and veterans is the honor of my lifetime.
In the state of South Carolina, one-third of all veterans live right here in the Lowcountry. And almost half of all military installations, posts and depots are in the Lowcountry too!
It is vital to the future of our country to honor our heroes and show our commitment for their service and sacrifice.
MILITARY FAMILY
I grew up in a military family, and I know both the pride you feel, as well as the challenges military families face.
My father is retired U.S. Army Brigadier General James E. Mace, who saw two tours of combat in Vietnam and another in the 1964 Dominican Republic coup d'etat. I'm proud to be the daughter of the most decorated living graduate of The Citadel, the military college of South Carolina.
My father also commanded the first-ever Ranger Training Brigade and has been recognized in the Ranger Hall of Fame at Fort Benning, GA.
Like many South Carolinians, most of my family are military veterans, whether active duty or retired.
This makes supporting our military and veterans all the more important.
PROTECT PARRIS ISLAND
The very first bill I ever filed in Congress was to protect Parris Island. More than $600 million in economic revenue and over 6,000 jobs are at stake because a few bureaucrats in Washington want to shut it down.
Over. My. Dead. Body.
I am working with our delegation and members of the House Armed Services Committee to ensure this never happens. Not on my watch.
OUR WORK IN CONGRESS FOR VETERANS
It isn't easy being a freshman member of Congress in the minority party, but that hasn't stopped me from rolling up my sleeves and going to work for the veteran community that means so much to me.
I have been a tireless advocate for our military and veterans in Congress, including:
Passing a bill through the House for scholarship funding for Gold Star families
Protecting Parris Island
Improving conditions at VA hospitals
Advocating for our military bases and installations throughout the Lowcountry
Even before joining Congress, as a State House Rep, I sponsored a bill that was signed into law in 2019 to establish an in-state Department of Veterans' Affairs. Lastly, I will continue tireless advocacy for our active duty and retired military veterans throughout the Lowcountry and beyond.
FOREIGN POLICY, SUPPORT FOR UKRAINE
It's no wonder the Commission on Presidential Debates changed the final debate topic from being about Foreign Policy in the 2020 debates – it's Joe Biden's weakest subject!
As Former Defense Secretary Robert Gates once said, Joe Biden "has been wrong on nearly every major foreign policy and national security issue over the past four decades."
It is no surprise that gross missteps in foreign policy (on top of inflation and other economic woes) has resulted in Joe Biden having the weakest first term approval ratings since Jimmy Carter.
FAILED AFGHANISTAN WITHDRAWAL
Joe Biden's Afghanistan withdrawal was a complete and total failure.
As a nation, we were ready to see the end of our endless wars. We just weren't ready to see the absolute failure of policy and execution that played out in real time in Afghanistan.
It started with the premature closing of Bagram Air Base, which created an environment of retreat in which the Taliban forces could blitz the country's capital Kabul.
The tragic loss of our 13 service members who were protecting the evacuation operation at the Kabul airport was truly heartbreaking.
The wake of this disastrous withdrawal leaves the Taliban in control again 20 years after we went to war, and it left them untold billions in U.S. weapons, vehicles and cash.
When Republicans take over the majority after the 2022 Red Wave, I will make sure the Oversight Committee I'm on is able to get to the bottom of what we left and what threats that might pose to American interests today.
FAILURE TO DETER RUSSIAN INVASION OF UKRAINE
Everyone knows this instinctively – Russia would not have invaded Ukraine if we had a strong leader in the White House like Donald Trump.
Vladimir Putin is evil. There can be no equivocation on this. I have traveled to Poland to meet with Ukrainian refugees and seen the effects of his evil firsthand.
Joe Biden should have taken preemptive measures to impose tough sanctions on Russia, so that they knew we meant business.
Russia invaded Georgia in 2008 with little consequence. Then they took the Crimean Peninsula from Ukraine in 2014.
Now we're still watching the horrors unfolding in Ukraine, as there is open war raging in Europe.
I oppose sending U.S. troops into a war with Russia over Ukraine. America First – I'm more concerned with securing our own southern border, but that doesn't mean we can't also try to stop Putin's expansion into Europe.
I strongly support increased crippling sanctions. I sponsored a bipartisan bill to ban Russian oil imports, and soon after Joe Biden saw both parties behind this idea, he finally banned Russian oil imports.
The sanctions simply haven't done enough. The Russian Ruble is stronger today than it was before the Ukrainian invasion.
Weak, indecisive leaders make the world less stable, which means supply chain issues and economic challenges right here at home.
VIOLENT CRIME, OPPOSING DEFUNDING POLICE
One of the most harmful political slogans in recent memory is "defund the police." Can you think of any worse idea for improving the safety and prosperity of neighborhoods, towns and cities across America?
It's basic common sense: without law & order, we have lawlessness and chaos. This isn't some problem with far-off cities on the west coast either. We've seen violence right here in the Lowcountry.
LAW & ORDER KEEPS LOWCOUNTRY FAMILIES SAFE
We have seen firsthand what happens when police are told to stand by and let violent criminals have free reign, when criminals stormed downtown Charleston, looting stores, destroying property and attacking innocent bystanders.
We want a safe Lowcountry for everyone, regardless of zip code. This means making sure law enforcement has the funding, personnel and training needed to effectively and responsibly keep violence off our streets.
ELECTION INTEGRITY & VOTING RIGHTS
DO YOU NEED AN ID TO GET A JOB?
Nancy asks a series of rapid fire questions about IDs, the right to vote and voting statistics.
When was the last time a Republican president was elected when the far left didn't claim they were illegitimately elected? It has been decades.
As a member of the House Election Integrity Caucus, it should be easy to vote and hard to cheat. Strong Voter ID laws go a long way to ensuring the sanctity of our elections.
Additionally, we have to stop social media billionaires and private entities from providing funding to state or local election offices to have influence over the election process. That's why I co-sponsored H.R. 7117, the Protect American Election Administration Act of 2022.
STOPPING NATIONWIDE TAKEOVER OF ELECTION PROCESS (H.R. 1)
H.R. 1. would give Washington control of every state's election processes, and so much more. So, for starters, it's unconstitutional.
H.R. 1 would:
Impose federal mandates that violate state constitutional election laws
Legalize ballot harvesting nationwide
Prevent states from issuing Voter ID laws
Provide taxpayer funding for political campaigns
Make voter fraud easier than ever before
While the bill died in the Senate, we cannot let up vigilance as Democrats continue to seek ways to have a nationwide takeover of state election rules.
DEFENDING THE 2ND AMENDMENT
Like most Army daughters, my father taught me to shoot. He also taught me to respect the importance of gun safety.
We can all agree, the natural beauty of the Lowcountry is truly a sportsman's paradise.
Support for the 2nd Amendment isn't just about supporting hunters and sportsmen. Fundamentally it's an issue of constitutional rights. And it's about preventing the federal government from taking those rights away.
At the same time, there are measures we can take to keep our communities safe, while also respecting the rights of law abiding citizens. These two things are not mutually exclusive.
IMPORTANCE OF THE 2ND AMENDMENT
Every time a criminal tragically breaks the law using a firearm, the far left wants to take away the rights of law abiding citizens. This is after the left says they want to defund the police and sparked a new crime wave in our nation's cities.
It doesn't matter whether or not you like guns – if the 2nd Amendment isn't safe, neither is the 1st Amendment. The founders believed Americans should have a right to defend themselves, and that the state shouldn't have the ultimate power.
I will never waiver from defending our constitutional rights. I remain committed to opposing laws restricting law-abiding citizens rights. At the same time, I will continue to work to keep guns out of the hands of bad guys.
COMMON GROUND ON GUNS
There are several measures we can take to reduce gun violence, but first we have to acknowledge the system is broken. Gun violence is not the result of citizens following the law, it is the result of criminals and those seeking to do real harm, breaking the laws we already have in place.
We know gun control doesn't work. Look at Chicago, where no larger than a 9mm is allowed within the city limits, yet every weekend, on average, more than 50 people are shot every weekend.
A recent vote to ban certain firearms for those under the age of 21, won't put a dent in preventing gun violence because the vast majority of shootings are conducted by those over the age of 21.
Here are some reforms to reduce gun violence and keep guns out of the hands of bad guys and yet these solutions also don't violate the rights of law abiding citizens. We can, and we should, find common ground on these and every issue:
Streamline all criminal records into one database at the state level (combining SLED, counties, municipalities, courts, DNR, etc.).
Streamline and strengthen criminal background checks.
Prohibit the sale of firearms to those who have previously used guns to shoot others (Uvalde).
Allow FBI to use more than a fax machine (no kidding) to communicate information about criminals to state and local agencies. The FBI should be allowed to use phone and internet. Today, they are not.
Provide resources for local law enforcement to utilize a "threat matrix" when certain individuals show disturbing signs or are reported to law enforcement.
Share This Page