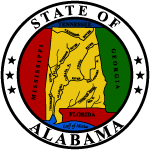 Contact information for the Alabama governor.
| | |
| --- | --- |
| Official Name: | Alabama |
| Governor: | Kay Ivey |
| Contact: | Contact the governor |
| Main Address: | 600 Dexter Avenue, Montgomery, AL 36130-2751 |
| Phone Number: | 1-334-242-7100 |
Alabama is Located in the southern United States, aboriginals were the first to occupy the region that became Alabama. Europeans reached this area in the 16th century. Alabama was the 22nd state to join the Union on December 14, 1819. At that time, cotton and slave labor was central to Alabama's economy. In January 1861, the state was one of the six first states to declare its secession from the Union, and in February, it joined the Confederate States of America. The state role was essential in the American Civil War; its capital, Montgomery, was the first Confederacy's capital. During this time, from March 1861 to July 1868, its United States Senate seats were declared vacant.
The United States Senate elections of 1868 and 1869 allowed the Republicans to maintain and even increase their majority in the senate. Six former Confederate states were also readmitted separately from the general election, each electing two Republicans. This increased majority is the largest proportion of seats ever controlled by the party.
Currently, U.S. senators of Alabama are Republican Richard Shelby since 1987 and Democrat Doug Jones since 2018. The state is one of the nine states to have a split U.S. Senate delegation.
The State elects U.S. senators to Classes 2 and 3, and therefore, will participate in the next elections in November 2020.
Contact Alabama Governors
Former governors
Contact Alabama Senators
Contact Alabama Representatives