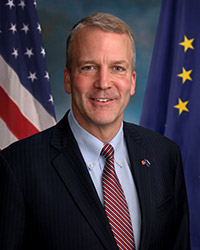 senator Dan Sullivan Contact information
Here you will find contact information for senator Dan Sullivan, including email address, phone number, and mailing address.
| | |
| --- | --- |
| Name | Dan Sullivan |
| Position | senator |
| State | Alaska |
| Party | Republican |
| Born | November 13, 1964 |
| Entered Office | January 3, 2015 |
| Term expires | January 3, 2027 |
| Mailing Address | 702 Hart Senate Office Building Washington DC 20510 |
| Phone number | 202 224-3004 |
| email | Email Form |
| Website | Official Website |
Know more about Senator Dan Sullivan (R-AK) Political Views
Daniel Scott Sullivan is an American politician and lawyer serving as the junior United States Senator from Alaska since 2015. He is a member of the Republican Party. Sullivan was in active duty for the United States Marine Corps from 1993 to 1997, 2004 to 2006, and in 2009 and 2013.
Dan Sullivan for senator
On This Page
Political Views
Abortion / LGBT
Sullivan opposes abortion, except in cases of rape, incest, or threat to the life of the mother; he also has voiced his opposition to same-sex marriage.
Healthcare
He opposes the Affordable Care Act and believes it should be repealed and replaced.
Undocumented Immigrants & Energy
Sullivan is against granting amnesty for undocumented immigrants, and is a proponent of an "all-of-the-above" energy policy, including increased drilling for oil.
Trump
He also opposed then presidential candidate Donald J. Trump during the 2016 presidential race, releasing a statement that said, "We need national leaders who can lead by example on this critical issue. The reprehensible revelations about Donald Trump have shown that he can't. Therefore, I am withdrawing my support for his candidacy." However, despite his lack of support for Trump as a candidate, Sullivan has voted "yes" for every nominee of President Trump's cabinet. Senator Sullivan has earned an 82.59% Lifetime Score from the American Conservative Union.
Gun law
Sullivan has an A-Q rating[clarification needed] from the National Rifle Association. In one of his 2014 commercials, Sullivan discussed the Second Amendment to the United States Constitution,[clarification needed] and the commercial ended with him showing one of his daughters how to aim a rifle.
Cannabis
Sullivan has cosponsored the bipartisan STATES Act proposed in the 115th U.S. Congress by Massachusetts Senator Elizabeth Warren and Colorado Senator Cory Gardner that would exempt individuals or corporations in compliance with state cannabis laws from federal enforcement of the Controlled Substances Act.
Criminal justice
He opposed the FIRST STEP Act. The bill passed 87-12 on December 18, 2018. Israel Anti-Boycott Act In July 2017, Sullivan co-sponsored the Israel Anti-Boycott Act (s. 720), which made it a federal crime for Americans to encourage or participate in boycotts against Israel and Israeli settlements in the occupied territories if protesting actions by the Israeli government.
Missile defense
In the summer of 2017, North Korean leader Kim Jong Un launched an intercontinental ballistic missile (ICBM) that landed about 200 miles (320 km) off the coast of Japan. He also threatened the United States with an ICBM strike. Sullivan said, "In fact, for over a year, the experts have been saying it's not a matter of if, but when North Korea will develop an [ICBM] that could hit not only Alaska and Hawaii, but the entire continental United States." Sullivan supports improving the United States' missile defense system (MDS). The U.S. Department of Defense, as of 2017, was conducting a missile defense review targeted at strengthening the nation's defensive abilities, studying whether to place missile interceptor sites on the east coast or in the Midwest, and recommending funding priorities. The report was due to Congress at the end of 2018.
This page is sourced primarily from official
senator Dan Sullivan's
Website. Consider visiting your representative's official website for the latest updates.