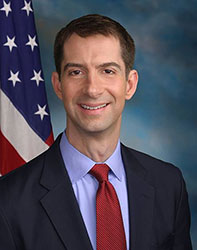 senator Tom Cotton Contact information
Here you will find contact information for senator Tom Cotton, including email address, phone number, and mailing address.
| | |
| --- | --- |
| Name | Tom Cotton |
| Position | senator |
| State | Arkansas |
| Party | Republican |
| Born | May 13, 1977 |
| Entered Office | January 3, 2015 |
| Term expires | January 3, 2027 |
| Mailing Address | 124 Russell Senate Office Building Washington DC 20510 |
| Phone number | 202 224-2353 |
| email | Email Form |
| Website | Official Website |
Contact Senator Tom Cotton (R-AR) biograph
Thomas Bryant Cotton is an American politician. A member of the Republican Party, he served in the U.S. House of Representatives from 2013 to 2015, and has served as the junior United States Senator from Arkansas since 2015.
Tom Cotton for senator
On This Page
Tom Cotton is a United States Senator from Arkansas. Tom's committees include the Judiciary Committee, where he serves as the Ranking Member for the Subcommittee on Criminal Justice and Counterterrorism, the Intelligence Committee, and the Armed Services Committee, where he serves as the Ranking Member of the Air Land Power Subcommittee.
Tom grew up on his family's cattle farm in Yell County. He graduated from Dardanelle High School, Harvard, and Harvard Law School. After a clerkship with the U.S. Court of Appeals and private law practice, Tom left the law because of the September 11th attacks. Tom served nearly five years on active duty in the United States Army as an Infantry Officer.
Tom served in Iraq with the 101st Airborne and in Afghanistan with a Provincial Reconstruction Team. Between his two combat tours, Tom served with The Old Guard at Arlington National Cemetery. Tom's military decorations include the Bronze Star Medal, Combat Infantry Badge, and Ranger Tab.
Between the Army and the Senate, Tom worked for McKinsey & Co. and served one term in the House of Representatives.
Tom and his wife Anna have two sons, Gabriel and Daniel.
Tom Cotton's biograph
Cotton was born on May 13, 1977, in Dardanelle, Ark. He received a bachelor's degree from Harvard College where he served as a columnist for the Harvard Crimson. He graduated magna cum laude.
On January 11, 2005, Cotton joined the United States Army and entered Officer Candidate School in March 2005. He was commissioned as a second lieutenant in the U.S. Army on June 30, 2005. Cotton later attended both the U.S. Army Airborne School and Ranger School. In June 2006, Cotton gained public attention after he wrote an open letter to The New York Times criticizing the paper's publication of an article detailing a Bush administration secret program monitoring terrorists' finances.[13] In 2008, he volunteered to return to combat duty, was promoted to captain on August 1, 2008, and deployed to Afghanistan in support of Operation Enduring Freedom on October 15, 2008. In Afghanistan, Cotton was assigned to Laghman Province, just north of Tora Bora in eastern Afghanistan. He was assigned duty as the operations officer of a Provincial Reconstruction Team, where he planned and resourced daily counter-insurgency and reconstruction operations for an 83-member joint and interagency team.
Cotton returned from Afghanistan on July 20, 2009. For his second tour in Afghanistan, he was awarded the Bronze Star Medal and various campaign/service medals. He was honorably discharged from the U.S. Army on September 26, 2009, at Fort Myer, Virginia.
He served as a clerk at the United States Court of Appeals for the 5th Circuit for Judge Jerry Edwin Smith and then engaged in private practice as an attorney with the law firm Gibson Dunn & Crutcher and Cooper & Kirk. After leaving active duty, Cotton joined McKinsey & Company, a management consulting firm. He subsequently returned to Dardanelle, where he began working on his family's cattle farm.
Share This Page