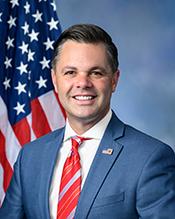 congress Zachary Nunn Contact information
Here you will find contact information for congress Zachary Nunn, including email address, phone number, and mailing address.
Contact Representative Zachary Nunn
Congressman Zach Nunn is in his first term serving Iowans in the Third Congressional District.
Zachary Nunn for congress
On This Page
Congressman Zach Nunn is in his first term serving Iowans in the Third Congressional District.
A sixth generation Iowan, Zach was raised in a family of public school teachers, nurses, and farmers. While growing up, Zach helped out on his family's Century family farm raising sheep, poultry and growing row crop. He was raised on Des Moines' east side and went to Southeast Polk High School before attending Drake University. He went on to get master's degrees from the Air Command and Staff College and the University of Cambridge.
Zach served our country for almost two decades in the United States Air Force. As an airborne intelligence officer, Zach flew combat missions in Russia and China. After 9/11, he deployed three times to the Middle East and flew over 700 combat hours. He served as Director of Cybersecurity at the White House's National Security Council combating cyber-attacks from foreign adversaries. Zach currently serves as a Lieutenant Colonel in the U.S. Air Force Reserve.
Following his active duty military service, Zach served in the Iowa House of Representatives and the Iowa Senate. While working in the state legislature, he helped pass the state's largest tax cuts three times over, growing Iowa's economy and putting more money back into the pockets of Iowans.
In Congress, Zach continues to be a pragmatic problem-solver pushing common-sense policies to benefit Iowans in all 21 counties he has the honor of representing. He serves on the House Financial Services Committee and the House Agriculture Committee where he is bringing Iowa's big voice in the insurance industry and agricultural industry to our nation's capital. Nunn also serves on the General Farm Commodities, Risk Management and Credit subcommittee and the Commodity Markets, Digital Assets and Rural development subcommittee.
Zach is honored to call Bondurant his home and is happily married to wife Kelly and dad of 4 kids and two foster children.
CONSTITUTIONAL RIGHTS
I've put my life on the line to protect our First and Second Amendment Rights – I'm a firm believer in the right to free speech and the right to bear arms. Right now, our country is under attack from the radical efforts of the far left and Big Tech who are muzzling our constitutional rights. In Washington, I'll put a stop to any DC politicians who try to tell us how to act or how to defend our families.
STRONGER ECONOMY
After dealing with a once in a generation pandemic, we're on our way to an economic comeback. Here at home, I passed Iowa's largest tax-cut, giving $1+ billion dollars back to families to keep more of their hard-earned money. But in DC, trillions of tax dollars are wasted on government bureaucracy and liberal wish lists are impeding our economy – and we're already reeling from tax hikes and inflated costs of living. We need to stop tax and spend handouts and help get Americans back to work.
BACK THE BLUE & DEFEND THE BORDER
Iowa is a special place and we need to keep it that way. As your voice in Washington, I will fight to keep our families and neighborhoods safe by supporting our heroes in law enforcement and first responders who serve our communities. We must not defund the police or abolish border security that combats human traffickers and the exploitation of others.
RIGHT TO LIFE
As a faith-oriented man, I will always stand with Iowa's most vulnerable – that means protecting our seniors, our disabled, and our unborn. I am a recognized pro-life leader, committed to fighting for the unborn. I will continue to advocate for Iowa's next generations in Washington, while Democrats will continue to allow abortion on demand.
NATIONAL DEFENSE
America is the greatest nation in the world and we must continue protecting our citizens from all enemies foreign and domestic – both at home and abroad. As a combat veteran, I know the importance of a strong military when it comes to defending our country, protecting democracy, and promoting peace. In Washington, I will advocate for policies that not only adequately fund our military but prioritize our veterans, active military and families, and mental health.
GROWING AGRICULTURE
With hard work and innovation, Iowa farmers help make our nation safer and more food secure. In Congress, we need someone who won't blame our farmers for problems like climate change. We need a leader who understands our farmers are the solution. I'll be a fighter who can help Iowa's agriculture take advantage of new market opportunities like value-added production, carbon sequestration, and regenerative agriculture. Quality Iowa food and biofuels will continue to power America's future and feed the world if Congress works with our Iowa ag community instead of against it.
IOWA VALUES
As Iowans, we live in tight-knit communities and will always lend a helping hand to our neighbors during natural disasters and tough times. We are selfless, hard-working, and honest people living right in the Heartland of America – and it's time to bring more of these values to Washington.
Share This Page