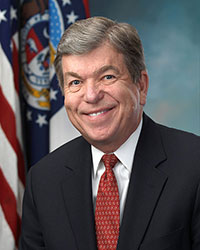 senator Roy Blunt Contact information
Here you will find contact information for senator Roy Blunt, including email address, phone number, and mailing address.
| | |
| --- | --- |
| Name | Roy Blunt |
| Position | senator |
| State | Missouri |
| Party | Republican |
| Born | January 10, 1950 |
| Entered Office | January 3, 2011 |
| Term expires | January 3, 2023 |
| Mailing Address | 260 Russell Senate Office Building Washington DC 20510 |
| Phone number | (202) 224-5721 |
| email | Email Form |
| Website | Official Website |
contact senator Roy Blunt (R-MO)
Roy Dean Blunt is an American politician who is the senior United States Senator for Missouri, serving since 2011. A member of the Republican Party, he previously served as a member of the United States House of Representatives and as Missouri Secretary of State.
Roy Blunt for senator
On This Page
Roy Dean Blunt is an American Politician. He is serving as a Senior Senator for the state of Missouri. He previously served as a member of the U.S. House of Representatives and Missouri Secretary of State.
Roy was born in Niangua, Missouri on January 10th, 1950. He graduated from Southwest Baptist University with a B.A. degree in history. He got his master's degree in history from Southwest Missouri State University. He was also a history teacher at Marshfield High School and Southwest Baptist University
Senator Roy Blunt Career
Roy Blunt's political career started by working as a county clerk and chief election official in 1973. He served in this position for a total of 12 years. Blunt decided to run for an open seat for governor in 1980. He managed to win the Republican Primary but lost the general election by 56%-44%.
Blunt ran for the position of Missouri Secretary of State in 1984 after the retirement of incumbent Democrat James Kirkpatric. He defeated Democrat Gary D. Sharpe and became the first Republican to hold this post in the past 50 years.
Blunt ran for governorship in 1982. Blunt was defeated by Missouri Attorney General William Webster. But Webster lost the general election to Melvin Eugene Carnahan.
Blunt chose to run for the U.S. House of Representatives in 1996. He ran in Missouri's 7th congressional district. He won the Republican Primary and defeated Democrat Ruth Bamberger in the general elections.
Blunt announced in 2010 that he would run for the seat in the U.S. Senate which was vacated by Sen. Kit Bond. He defeated Democratic nominee Secretary of State Robin Carnahan, Constitution Party nominee Jerry Beck, Libertarian nominee Jonathan Dine, and write-in candidates Mark S. Memory, Frazier Miller, Jeff Wirick, and Richie L. Wolfe.
Blunt has announced this year that he will not run for re-election in 2022.
Senator Roy Blunt Accomplishments
Blunt's most significant legislative accomplishments had democratic co-sponsors. He helped in passing bills in the Senate that helped save Veterans from paying unethical fees while filing disability claims.
Senator Roy Blunt Criticisms
In 2006, Blunt was listed as one of the most corrupt members of Congress by a magazine called Multinational Monitor. Blunt was directly tied to the Jack Abramoff scandal and he was known for secretly trying to insert provisions in legislation for his own benefit at the expense of competitors.
Share This Page