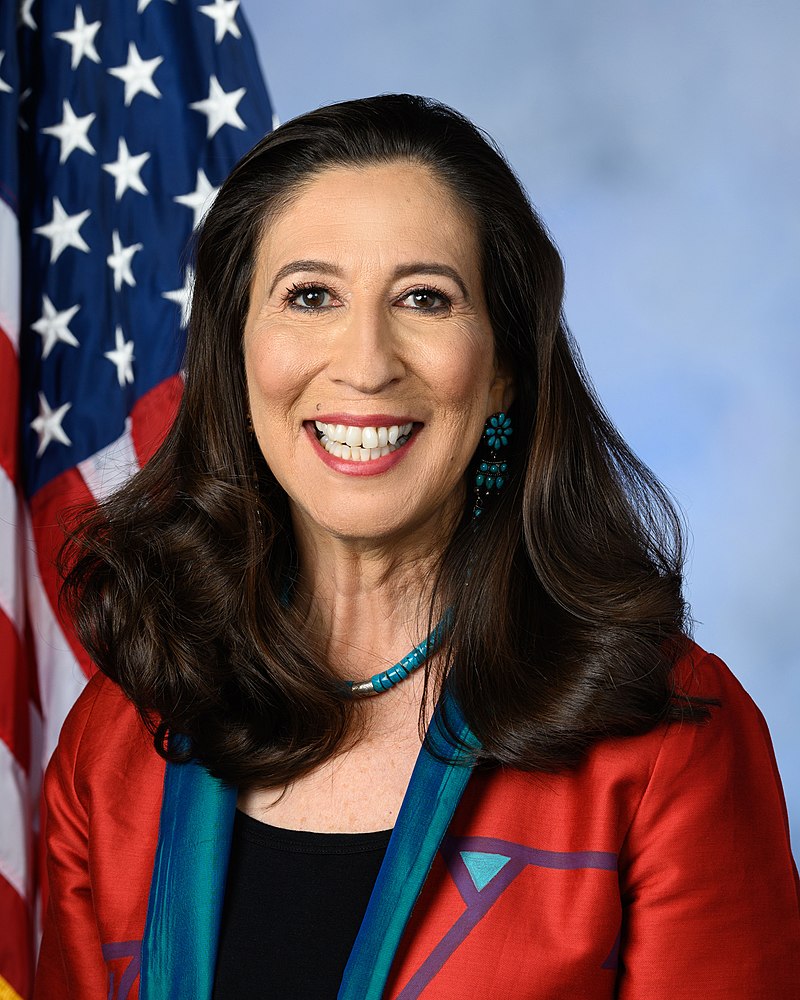 congress Teresa Leger Fernandez Contact information
Here you will find contact information for congress Teresa Leger Fernandez, including email address, phone number, and mailing address.
Contact Representative Teresa Leger Fernandez
I am a daughter of rural New Mexico, and I am here to represent New Mexico's Third Congressional District with a deep understanding of what New Mexico's communities need.
Teresa Leger Fernandez for congress
On This Page
I am a daughter of rural New Mexico, and I am here to represent New Mexico's Third Congressional District with a deep understanding of what New Mexico's communities need.
I am the girl who went to Head Start and fell in love with learning; who wants every child to have access to early childhood education and public schools that inspire them to achieve their potential.
The pre-teen who flipped burgers at her uncle's rodeo and wants our ranchers and farmers to stay on their land and help build a green rural economy.
The advocate who helped build health clinics, businesses, infrastructure and affordable housing who wants our country to invest in the 21st century infrastructure of broadband, transportation, housing and clean energy that we need for our communities and businesses to prosper.
The former acequia commissioner who fought to keep water running in our valley who wants to make sure New Mexico's water does not disappear because we did not act to save our planet and build a strong renewable energy economy.
The Obama appointee and Clinton White House Fellow who knows the importance of marshalling smart federal policy on behalf of our local communities and our world.
The mother of three amazing children who wants our state to build a dynamic and innovative economy that creates fulfilling, well-paying jobs for all our kids here in New Mexico.
The cancer survivor whose health coverage could be denied for pre-existing conditions who wants every person to have affordable and accessible health care.
The advocate who helped build health clinics, businesses and infrastructure who wants our country to invest in 21st-century infrastructure so our communities and businesses can thrive.
The family-member that hikes in our beautiful mountains and wilderness…who wants to keep our public lands pristine and protected for generations to come.
The former attorney for tribal sovereignty and the advocate for Hispanic cultural expression…who knows New Mexico's multicultural understanding is a model for the nation.
A proud daughter of rural New Mexico who grew up in Las Vegas as part of a big family who taught me that now is always the time to be of service to our communities.
The first Congresswoman to represent New Mexico's Third Congressional District, who is grateful for the opportunity to serve the communities that I love and have dedicated my life to.
I am running for reelection to continue delivering for our state on the issues that matter most so that our communities can not just survive
Promote a vibrant, equitable economy. Invest in 21st century infrastructure
New Mexicans are hurting from the high price of food, gas, and inflation. The COVID-19 pandemic, Putin's war in Ukraine, and corporate greed have all contributed to these price increases. But while prices are increasing for hard-working New Mexicans, massive corporations are posting record profits. In Congress, I work hard to hold these massive corporations accountable for price gouging, fix supply chain issues and bring down the cost of gas, groceries and prescription drugs. But we have to do much more to create jobs, grow paychecks, and reduce costs for hard-working New Mexicans.
Infrastructure
Infrastructure is the foundation for what our families, communities, and businesses need to thrive. I have walked and worked in rural communities across New Mexico that do not have access to the internet, or even to clean water. I am taking these stories of struggle and deprivation to Congress so these communities are not forgotten - and that investments are directed toward where they are needed most.
In Congress, I worked to pass the Bipartisan Infrastructure Law, which is investing in roads, bridges, broadband, and so much more, and included the largest investment in clean drinking water in American history. I secured billions of dollars of investment in New Mexico's economy and infrastructure - especially for our rural communities. I've secured funding to finally complete the Navajo-Gallup Water Supply Project and a $177 million investment towards the Eastern New Mexico Water Supply project. We are investing in clean water in every corner of New Mexico.
Over and over again, I've heard the importance of broadband so our children can learn and our small businesses can compete. With a $65 billion investment in broadband, the information highway will soon reach every rural part of my district.
​ From expanding access to healthcare with the Roosevelt County Special Hospital Expansion and the San Juan College Student Health Center, to building affordable housing in Santa Fe, and investing in our educational programs and community centers across the district - I am focused on delivering the investments our economy and communities need to thrive.
The Bipartisan Infrastructure Law also included my proposal to invest $4.7 billion to plug abandoned oil wells that are releasing toxins into our environment. This will not only protect our land, air and water, but also create good-paying, union jobs right here in our state.
​ We have also secured the largest investment in clean energy transmission ever, which will help New Mexico utilize our endless wind and solar resources to reduce costs for rate-payers, broaden our tax base, and create jobs. These investments are a win for our economy and this beautiful place we call home.
Labor
I fully support raising the federal minimum wage and protecting the rights of workers to collectively bargain - everyone who wants to work should be able to have a fulfilling job that pays a good wage.
It is unacceptable that women make less than their male counterparts doing comparable work. In New Mexico women make 77 cents for every dollar paid to men. I am an advocate for equal pay for equal work. At the same time, we need to enact paid family leave and ensure affordable child care for our families. As a working mom of three, I know this all too well.
All New Mexicans deserve the time they need away from work when they have a child, get sick, or a family member is deployed in the military - and our families deserve access to quality, affordable child care for all of New Mexico's children.
Small Businesses
From traders along the Camino Real to Charlie's Spic and Span in my hometown of Las Vegas, NM, small businesses are a vital part of our communities. As a former small business owner, I work to support small businesses, the backbone of our local economies, by cutting red tape, creating access to capital, and providing tax incentives for local businesses instead of giving handouts to large out-of-state corporations. I worked in Congress to pass the American Rescue Plan to provide emergency support for small businesses, venues, and restaurants in New Mexico, including forgivable loans and tax credits.
seniors
We must protect and expand the benefits of Social Security and Medicare. Our seniors worked hard and contributed to these programs over their careers, and New Mexicans deserve to retire with dignity. I am cosponsoring legislation that would expand Social Security benefits, increase the cost-of-living adjustment for seniors, and strengthen the solvency of the program. Further, I support investing in our caregiving workforce to support older adults and people with disabilities. Lastly, I voted for legislation to lower the cost and cap prescription drug costs and will continue to hold massive pharmaceutical companies accountable for the prices they set.
immigration
Champion a humane, comprehensive immigration policy As a member of the Congressional Hispanic Caucus, I strongly support humane, comprehensive immigration reform. We must treat everyone with dignity, provide a path to citizenship for undocumented dreamers and other law-abiding immigrants, and keeps families together. Immigration reform would ensure that talented, hard-working people could contribute to our economy. It would address labor shortages in high-demand areas, reduce the deficit, and expand our economy.
I believe in strengthening security at our border and points of entry, but this is most effectively done by targeting those places where we see most contraband and drug smuggling.
Something that I think often gets lost in the debate about immigration is the talent, energy, and value that immigrants, especially young immigrants like dreamers, bring to this nation. I have seen this firsthand through my work helping to start and run an immigration clinic, through my service on the board of the Mexican American Legal Defense and Educational Fund, and by being an active member in our diverse New Mexican community that fosters and celebrates multiculturalism. New Mexico can be a model for other parts of the nation.
healthcare
All New Mexicans and all Americans have a fundamental right to quality, affordable health care in their communities. That includes rural and tribal communities, which often lack access to care.
We all know someone who we care about who hasn't gone to the doctor because they couldn't afford the deductible or copay. As a cancer survivor, I understand how costly getting sick can be. That's why I voted to bring down health insurance premiums and lower insurance costs for millions of Americans.
I voted to cap out-of-pocket prescription drug payments and gave Medicare the authority to negotiate with drug companies so that prices can finally start coming down. If life saving or essential medications are out of reach, then what good are they to those most in need?
Like many New Mexicans, I know the pain of losing a loved one to illness. I lost both parents and my younger sister to cancer, and two brothers to addiction and substance abuse. I am committed to fighting for access to preventative health care and behavioral healthcare so that fewer New Mexican familias have to experience the pain that mine did.
Health care for all means access for all. It means a health care system that isn't crippled by bankrupting deductibles and copays. It means nobody receives a surprise bill in the mail. It means investing in our health care system to improve the health and well-being of Americans, investing in innovative treatments and drugs that will save lives, giving providers the tools and freedom to do their jobs, and bringing down costs for hard working families.
Rural Health Care
In New Mexico, we know we need better access to health care in our rural areas. I've spoken to New Mexicans living in rural areas whose lives were saved because they had access to close health care services. But too many New Mexicans living in our mountain villages or small towns and tribal communities lack meaningful access to health care. I've fought to invest in rural health care, and am a staunch advocate for rural New Mexicans in Congress.
​ When the VA recommended closing down four veterans community-based health clinics in rural communities across our district, I successfully fought the proposal, and our clinics will stay open. We can't just thank our veterans for their service - we must provide them with the services they have earned - and that includes ensuring access for veterans who live in rural communities as well as urban ones.
We need adequate funding for clinics in rural areas and better incentives for doctors to practice in rural areas, so that all of our community members have access to care where they live and work. We also must fully invest in behavioral and mental health services and address the epidemic of addiction and substance abuse that has hit our rural areas especially hard. We need to train more health care providers, nurses and technicians who come from and want to stay in our beautiful small towns and villages.
COVID-19 And Future Pandemics
The COVID-19 pandemic has killed over one million Americans and cost the U.S. economy trillions of dollars - and laid bare many of the problems and inequities within our healthcare system. As we continue to manage the current pandemic, we must prepare for and prevent the next one from occurring.
Preventing the next pandemic will require investing in science to study viruses in animal populations close to communities and reduce the risk of transmission of infectious diseases by addressing habitat loss and illegal wildlife trafficking. It will also require working collaboratively with our international partners to quickly identify and mitigate the spread of disease. The globalized nature of the world and quick spread of disease makes international cooperation critically important.
This pandemic has demonstrated the large inequities within our health care system - and in New Mexico, it has disproportionately affected rural, Native, Hispanic, and low-income communities. To overcome these inequalities, we must insist on a health care system that is actually accessible and affordable for every American, while strengthening our supply chain to ensure the quick and equitable distribution of health care resources and supplies. It is also crucially important to grow our health care workforce, invest in new treatments and medicines, and develop our nation's domestic health care industry. These investments will create good-paying jobs at home and ensure that we have an independent supply of life-saving equipment and resources.
Reproductive Freedom
In New Mexico, we trust women to make personal decisions about pregnancy with their familias, their faith, and their healthcare provider - without government interference.
For the first time in history, the Supreme Court eliminated an established right under the constitution: the right to reproductive choice, and in so doing, has taken away half a century of the rights of women across our nation. I co-sponsored and voted for federal legislation to codify Roe v. Wade. We must protect reproductive freedom for every American.
Furthermore, contraception must be available and affordable, and every woman must have access to basic preventive health care that keeps them and, in turn, our families and communities healthy and thriving. I will keep pushing for this essential freedom until we can get it signed into law.
As a mother who managed a high-risk pregnancy, I know how important having the freedom to make decisions about my healthcare is. I will continue to be a powerful, committed voice in Congress on behalf of women's health. The decisions that we make about our bodies, our families, and our futures are deeply personal - and those decisions must be protected, respected, and free from government interference.
sustainability
As a former acequia commissioner who took on a large developer to protect our water systems, I know what every New Mexican knows: Agua es Vida. Water is life. That's why in Congress I helped secure billions of dollars in federal funding for water projects that will update our systems and keep water flowing through New Mexico - from the Eastern Water Supply Project in the East, to the Navajo-Gallup Water Supply Project in the West. We know that when the water flows, New Mexico thrives.
My family owns farm land in rural New Mexico and we recognize the value of regenerative agriculture. Our ranchers and farmers are key to our economy, our herencia and our solutions to the climate crisis. Their business is to feed us and sustain our economy. So much of who I am, and my ties to my family, is sustained through our connections to this beautiful land we call home. That's true for all of us who call New Mexico home.
Here in New Mexico, we know how important the land, air, and water are to our culture, history, and economy. And we know that New Mexico is getting hotter, our droughts are getting drier and longer, and our wildfire seasons are getting longer and more damaging. We know we must address these changes to our climate so that our families can continue to thrive here. We have an obligation to invest in renewable energy resources like wind and solar, and take advantage of the ground-breaking new technologies coming out of our national labs and universities that will reduce carbon pollution and create good-paying jobs in New Mexico and across the country.
We must be better ancestors than descendants - meaning we must protect and preserve New Mexico and our planet for our future generations.
Wildfires
When the largest wildfire in New Mexico's history devastated our communities, I held the federal government accountable for starting the fire. This was not a natural disaster, it was a man made disaster and the federal government must pay for the damages they caused. I secured resources to battle the wildfire, ensured that families displaced had emergency help and long-term solutions. In Congress, I worked to increase firefighter pay and ensure firefighters get health care when their work damages their health. My Hermit's Peak/Calf Canyon Fire Assistance Act to fully compensate the families that have been harmed has passed the House and is now working its way through the Senate. I also secured investigations into US Forest Service policies that allowed the control burn to happen under dangerous conditions that ultimately turned some of our most beautiful land into a 340,000 acre burn scar. I'm working with the USFS to update their policies so that a tragedy like this never happens again.
democracy
Strengthening our democracy and fighting to protect the right to vote.
As a proud daughter of rural New Mexico, I know that democracy works best when elected officials are accountable to the communities they serve, not corporate special interests. I've fought to protect Native American and Hispanic voters from gerrymandering and helped pass legislation to require early voting sites in our rural communities.
I've taken my lifetime commitment of championing voting rights to Congress. I've worked on legislation to ensure that every American has an equal opportunity to vote and engage in our democracy, require secret money groups to disclose their donors, and end partisan gerrymandering. I will never stop fighting to restore democracy to the people, protect the full voting rights of every American, overturn Citizens United, and ensure elected officials work for the gente - not just the wealthy and powerful.
education
We invest in what we believe in, and I believe in our young people and their future. Access to quality education can transform New Mexico and help us reimagine an American Dream where students from Roswell to Farmington and Gallup to Raton can climb the ladder of opportunity and possibility to unlock their full potential.
My parents were educators and I saw first-hand how a good education and caring teachers can make a difference in the lives of our children, and the future of our communities. I started my academic career in Head Start. I know how important early-childhood education is - and that the federal government should be leading the way to make sure that all children are given the chance to learn, and a safe, healthy environment to grow in.
The federal government has a responsibility to help our students succeed through higher education - be that college or university, or apprenticeships and vocational schools. I support reducing the burden of student debt as well as eliminating undergraduate tuition at public colleges and universities for most students. We cannot let our young people join the workforce with crippling student loan debt, which is holding so many back and crippling our economy. As a member of the House Committee on Education and Labor, I have also worked to expand apprenticeships, vocational school opportunities, and job training programs.
safety
Like many of us across rural New Mexico, I was born into a gun-owning household where hunting was part of the rhythm of the seasons, and wild game a part of our diet. My father instilled in his children a deep commitment to gun safety, and I bring this experience to my work in Congress and the fight to ensure that all Americans have the fundamental right to live free from the fear of gun violence in their communities. The recent tragedy at an elementary school in Uvalde, Texas where 19 beautiful children and two teachers were senselessly murdered is yet another mass shooting that reminds us of the cost of failing to pass common-sense gun violence prevention reforms in Congress. Gun violence is a public health crisis and we must act.
Americans overwhelmingly support gun violence reform. I support background checks on all gun sales, a ban on military-style assault weapons, and strengthening red flag laws to ensure dangerous individuals who may harm themselves or others don't possess them. These are just some of the widely supported policies that will save lives without impacting the rights of law-abiding Americans to freely own firearms.
Tribal Sovereignty
As a former attorney and advocate on behalf of Native American Tribes and Pueblos, championing self-determination and tribal sovereignty is a commitment that has defined my career and guides my work in Congress.
New Mexico's Third Congressional District is home to 16 Pueblos, the Jicarilla Apache Nation, and large portions of the Navajo Nation. In Congress, I serve as the Chair of the Subcommittee for Indigenous Peoples of the United States and work to ensure the federal government upholds its obligation to fully safeguard the inherent sovereign authority and governmental jurisdiction that Native American Tribes have over their lands and resources and their right of self-determination, and to engage in government-to-government consultation.
I helped secure the largest investments in Tribes in history with the passage of the American Rescue Plan and the Bipartisan Infrastructure Law. But much more work needs to be done and we need to continue to fully invest in the Bureau of Indian Affairs (BIA), Bureau of Indian Education (BIE), Indian Health Service (IHS), and other key programs to provide infrastructure in Indian Country. I will also continue to support Tribes and Pueblos to compact and contract IHS and other programs. I am leading the fight in Congress to protect historic and sacred sites and to return stolen sacred items to their rightful Tribal owners.
Share This Page