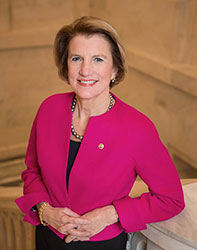 senator Shelley Moore Capito Contact information
Here you will find contact information for senator Shelley Moore Capito, including email address, phone number, and mailing address.
| | |
| --- | --- |
| Name | Shelley Moore Capito |
| Position | senator |
| State | West Virginia |
| Party | Republican |
| Born | November 26, 1953 |
| Entered Office | January 3, 2015 |
| Term expires | January 3, 2027 |
| Mailing Address | 172 Russell Senate Office Building Washington DC 20510 |
| Phone number | (202) 224-6472 |
| email | Email Form |
| Website | Official Website |
Contact Senator Shelley Moore Capito (R-WV)
Shelley Wellons Moore Capito is an American politician serving as the junior United States Senator for West Virginia since 2015.
Shelley Moore Capito for senator
On This Page
Senator Shelley Wellons Biograph
Shelley Moore Capito was elected by the people of West Virginia to the United States Senate in 2014 and re-elected in 2020. She is the first female U.S. senator in West Virginia's history and was elected with the largest margin of victory for a Republican in state history—winning more than 70 percent of the vote and all 55 counties, surpassing the previous mark she set in 2014 when she won more than 62 percent of the vote and all 55 counties
After serving West Virginia's Second Congressional District in the U.S. House of Representatives for 14 years, and as a member of the West Virginia House of Delegates for four years prior, Senator Capito decided to run for Senate to be an even stronger voice for the Mountain State. She also saw an opportunity to restore order to a Senate stuck in gridlock for far too long. She believes that today's challenges demand bipartisan solutions and cooperation across the aisle to advance legislation that benefits West Virginia and the country as a whole. Senator Capito is committed to being accessible and responsive to her fellow West Virginians and regularly travels, with proper health and safety precautions in place, to hear from and meet with West Virginians.
Senator Capito serves on the Appropriations Committee; the Commerce, Science, and Transportation Committee; the Environment and Public Works (EPW) Committee; and the Rules and Administration Committee. This committee portfolio puts her in a strong position to create new opportunities in the Mountain State and fight for West Virginia priorities, jobs, and families.
As a member of the Committee on Appropriations, Senator Capito works to ensure West Virginia's priorities are represented when our nation's funding decisions are made. During her time on the committee, she has served as chair of the Legislative Branch Subcommittee, the Financial Services and General Government Subcommittee, and the Homeland Security Subcommittee. Senator Capito currently serves as the top Republican on the Homeland Security Subcommittee, where she oversees funding for a range of national security resources and agencies. She has been a member of the Appropriations Committee since she became a Senator in 2015.
On the EPW Committee, the senator serves as Ranking Member. As the top Republican on the committee, Ranking Member Capito has advocated for policies that protect vital West Virginia energy and manufacturing jobs and encourage investment in West Virginia's infrastructure. As a leader on the EPW Committee, Ranking Member Capito is committed to promoting a commonsense regulatory strategy and protecting affordable, reliable energy production; building our nation's infrastructure, and encouraging economic development. She has been a member of the EPW Committee since she became a Senator in 2015.
On the Commerce Committee, Senator Capito oversees ways to address many issues that are critical to West Virginia, most notably broadband expansion, which she has been a leading voice on since she came to Congress. This committee assignment allows Senator Capito to continue advocating for improved connectivity in West Virginia.
A lifelong West Virginian herself, Senator Capito was born in Glen Dale in the Northern Panhandle. She holds a B.S. in Zoology from Duke University and a M.Ed. from the University of Virginia. She and her husband Charles L. Capito Jr. reside in Charleston. They have three adult children: two sons, Charles (wife Laura) and Moore, and one daughter, Shelley (husband Colin Macleod). They have also been blessed with seven grandchildren: Celia, Charlie, Eliza, Rose, Arch, Macaulay, and Lewis.
About Senator Shelley Wellons
Senator Shelley Wellons Moore Capito (R) is an American politician and educator. She has been serving as a U.S. Senator from West Virginia under the Republicans since 2015. She was a University counselor and also a former member of the U.S. House of Representatives.
Capito was born in Glen Dale, West Virginia, on November 26, 1953. She attended the Holton-Arms School. She earned her Bachelor's degree from Duke University in 1975. She also received a Master's degree in Education from the University of Virginia in 1976.
She worked as a career counselor at West Virginia State University. She also worked as the director of the educational information center for the West Virginia Board of Regents
Senator Shelley Moore Capito Career
Capito started her political career in 1996. She was elected to the West Virginia House of Delegates. She served till 2001. In 2000, Capito ran for a seat at the U.S. House of Representatives. She defeated Democratic nominee Humphreys and assumed the seat the following year. She was re-elected in 2002 and served till 2014.
Before the end of her final tenure at the House of Reps, Capito announced her candidacy for a seat at the U.S. Senate. She won the Republican primary with 87% votes. She also defeated Democratic incumbent Tennant in the general election. She was re-elected in 2020.
Senator Shelley Moore Capito Accomplishments
Capito has worked on many legislations in service of her people.
She is a stern advocate of human and LGBT rights. She is working alongside Senator Kirsten to reduce domestic violence. She also worked on updating the Congressional Accountability Act. She also announced $899,927 for the Foundation of Rape Information and Services.
One of her top priorities is the improvement of the state's economic status. She has worked hard to create new job opportunities while supporting existing ones. She has also ensured the availability of funding for various sectors of the state.
Capito is a key figure in the energy sector. She is an advocate of policies that push for more reliable energy production in West Virginia. She has also worked to create manufacturing jobs to boost the state's economy.
Capito's administration also focused on infrastructural development. She is also a notable figure in the promotion of cyber security and broadband expansion.
In the healthcare sector, Capito voted in favor of the Children's Health Insurance Program. She also voted for the expansion of the Act, which will cover more than 4 million children.
She supported the Affordable Care Act in 2014. She also cosponsored the Community Health Investment, Modernization, and Excellent Act. The Act is aimed at providing federal funding to community health centers
Senator Shelley Moore Capito Criticisms
Senator Capito got criticized because of matters related to her father – Governor Arch Moore – who served years in the federal prison. Moore got under fire for involving himself in a federal scandal. He was convicted of a felony and pleaded guilty.
Understandably some moderate voters blamed her for blocking motions to investigate the January 6 insurrection at Capitol Hill
Share This Page