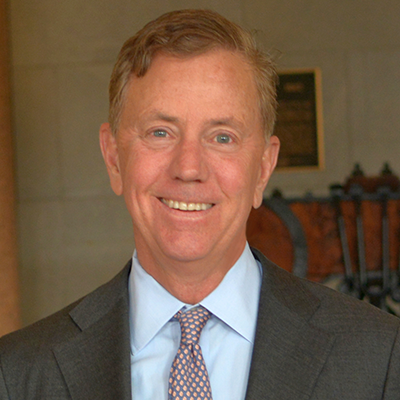 governor Ned Lamont Contact information
Here you will find contact information for governor Ned Lamont, including email address, phone number, and mailing address.
| | |
| --- | --- |
| Name | Ned Lamont |
| Position | governor |
| State | Connecticut |
| Party | Democratic |
| Born | January 3, 1954 |
| Entered Office | January 9, 2019 |
| Terms1 | January 9, 2019 - Current |
| Terms 2 | |
| Terms 3 | |
| Term expires | |
| Mailing Address | 210 Capitol Avenue Hartford, CT 06106 |
| Mailing Address 2 | |
| Phone number | 800/406-1527 |
| Phone number | |
| fax 1 | 202/347-7151 |
| fax 2 | |
| email | Email Form |
| Website | Official Website |
contact Governor Ned Lamont
Edward Miner "Ned" Lamont, Jr. was sworn into office on January 9, 2019 as the 89th governor of Connecticut. Lamont got involved in public service shortly after college, founding a weekly newspaper in a town hit by the loss of its largest employer. Covering town meetings and the Board of Selectmen, he helped to bring voice and transparency to a community working to recover from job losses and reinvent itself. Later, as a member of both the Greenwich Board of Selectmen and the Board of Estimate and Taxation, Lamont worked in a bipartisan effort to safeguard a multimillion-dollar budget and deliver results for constituents. For four years, Lamont also served as Chairman of the State Investment Advisory Council, overseeing a multibillion-dollar state pension fund. Lamont started his own company, taking on the large and established giants of the telecom industry. Under his vision and stewardship, the company grew to serve over 400 of America's largest college campuses and 1 million college students across the nation. Lamont was born on January 3, 1954, in Washington, D.C. to Camille Helene and Edward Miner Lamont. The eldest of three children, he attended Phillips Exeter Academy, and served as president of the student newspaper, The Exonian. After graduating Phillips Exeter in 1972, he earned a Bachelor of Arts in sociology from Harvard College in 1976 and a Master of Business Administration from the Yale School of Management in 1980. Lamont married his wife Annie on September 10, 1983. They have three children Emily, Lindsay, and Teddy.
Ned Lamont for governor
Governor Ned Lamont is a father, husband, and business owner who has dedicated himself to serving the public. For Ned, this isn't about politics. This is about continuing the progress we have made and keeping our state moving forward.
Governor Lamont is fighting every day for Connecticut – growing jobs, cutting taxes, and investing in our schools and our communities – as he leads our state into the future.
Share This Page