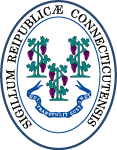 Connecticut State Government
Contact information for the Connecticut governor.
Connecticut became a state on January 9, 1788, the fifth state to join the Union. Connecticut's first two senators, Oliver Ellsworth and William Johnson, took office on March 4, 1789. Connecticut's longest-serving senators include Orville Platte (1879–1905) and Christopher Dodd (1981–2011). Among those who rose to leadership positions are Lafayette Foster and Frank Brandegee, both of whom served as the Senate's president pro tempore.
Contact Connecticut Governors
Former governors
Contact Connecticut Senators
Contact Connecticut Representatives