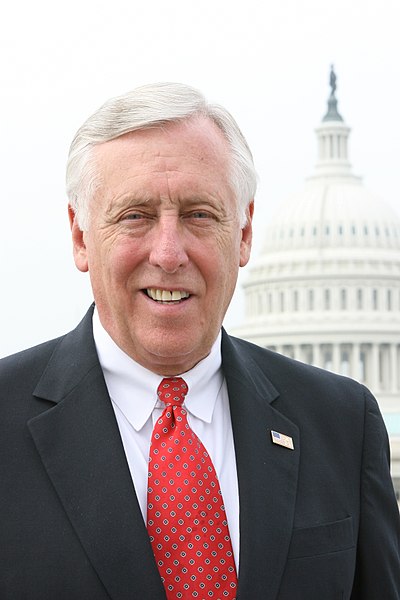 congress Steny H. Hoyer Contact information
Here you will find contact information for congress Steny H. Hoyer, including email address, phone number, and mailing address.
Contact Representative Steny H. Hoyer
Congressman Steny H. Hoyer represents Maryland's Fifth Congressional District, which includes Calvert, Charles and St. Mary's counties and portions of Prince George's and Anne Arundel counties.
Steny H. Hoyer for congress
On This Page
Congressman Steny H. Hoyer represents Maryland's Fifth Congressional District, which includes Calvert, Charles and St. Mary's counties and portions of Prince George's and Anne Arundel counties. A resident of Mechanicsville serving his 21st term in Congress, Congressman Hoyer became the longest-serving Member of the U.S. House of Representatives from Maryland in history on June 4, 2007.
It was at the University of Maryland, College Park, that Steny Hoyer first heard the call to pursue a life in public service. As a student, he heard an address on campus by John F. Kennedy, then a senator running for president, and was inspired to get involved in politics and intern on Capitol Hill. It was here that Hoyer began a journey that would lead to him become the first Marylander in history to serve as Majority Leader in the U.S. House of Representatives.
While attending night classes at Georgetown Law, Hoyer worked as a junior staffer to Sen. Daniel Brewster (D-MD) to pay for school. After graduating, he ran for and won a seat representing Prince George's County, where he had grown up, in the Maryland State Senate at the age of twenty-seven. Inspired by the Civil Rights Movement and the legacy of President John F. Kennedy, he cast one of his first votes to end the ban on interracial marriage still on Maryland's lawbooks, and he focused his work in the Senate on making housing more affordable and equitable and expanding transit options for commuters as the county grew. In 1975, at age thirty-five, Hoyer became the youngest State Senate President in Maryland's history, a record he still holds. He ran for Congress in 1981 in a special election and has spent every day since fighting for the people of Maryland's Fifth District to have strong communities and schools, economic opportunities to get ahead, and the best constituent services of any district in the country.
Throughout his time in public service, Hoyer has earned a reputation for effectiveness at building consensus in order to effect progressive change. He was lead sponsor of the Americans with Disabilities Act (ADA) in 1990, which broke down barriers and secured equal rights for people with disabilities. Later, he was an original co-sponsor of the Violence Against Women Act (VAWA), which has helped reduce domestic violence and bring abusers to justice. After the disputed 2000 election, he led efforts to pass the Help America Vote Act (HAVA), and he has been a champion for voting rights and to restore the protections of the 1965 Voting Rights Act after key parts of that law were struck down in 2013 by the Supreme Court. In 2010, as Majority Leader, he brought legislation to the House floor that finally ended the discriminatory "Don't Ask, Don't Tell" policy that banned LGBT Americans from serving openly in the military, and he was a vocal supporter of marriage equality before the Supreme Court made it the law of the land in 2015. As Majority Leader again in the 117th Congress, he's worked across the Democratic Caucus and across the aisle to secure House passage of legislation to raise the minimum wage, secure the rights of workers and labor unions, prevent Dreamers from being deported, defend the Affordable Care Act and protect women's health care choices, ensure equal pay for women, affirm the Paris Climate Agreement, and restore voting rights to formerly incarcerated people who paid their debt to society.
Always putting his constituents first, Hoyer has worked hard to bring federal resources home to Maryland's Fifth District, which includes College Park. His support for the University's expansion of research and teaching is rivaled only by his lifelong support for the men and women's teams in the Terps' pursuit of victory. In addition to securing funding for key University initiatives, Hoyer has also worked to expand federal funding for Fifth District fire and public safety departments, for local NASA and NOAA facilities, public schools, and community development programs that fight poverty and expand opportunities like skills training for workers. He has been a champion of full-service, community schools, helping to launch and grow Maryland's nationally recognized network of early childhood centers, named for his late wife Judy, who was an early childhood education administrator in Prince George's County. Hoyer has also been a tireless advocate for a cleaner and healthier Chesapeake Bay, securing millions in funding for oyster rehabilitation and Bay cleanup programs.
Looking beyond America's borders, Hoyer has been a leader in promoting human rights and progressive values around the world. In the late 1980's and early 1990's, he served as Chairman of the Helsinki Commission, which promoted freedom and civil liberties behind the Iron Curtain and worked to secure democracy in the newly freed nations after the Cold War's end. In 2007, he traveled to Darfur and South Sudan to raise awareness of the humanitarian crisis and genocide taking place there. Last year, Hoyer addressed the OSCE – Parliamentary Assembly, of which he was a founding member, and reaffirmed the need for the world's democracies to stand together against extremism and defend the principles of equality, justice, opportunity, free speech, and the free press.
As House Majority Leader, Hoyer is the second-ranking member of the House Democratic Leadership and plays a key role in shaping House Democrats' priorities and bringing legislation to the Floor to effect the party's progressive agenda. His experience, know-how, and strong work ethic have led to increasing responsibilities within the House Democratic leadership. He previously served as House Majority Leader from 2007 to 2011 and House Democratic Whip from 2003 to 2007. Prior to serving in his first term as Whip, Hoyer was Chair of the Democratic Caucus from 1989 to 1995. He became the longest-serving Member of the U.S. House of Representatives from Maryland in history on June 4, 2007, and continues to work hard every day for his constituents and for the Democratic values he has championed since his days as a University of Maryland student.
Education
Congressman Hoyer is committed to public education and believes that we must continue to invest in Maryland schools so they remain among the best in the nation.
Congressman Hoyer is focused on ensuring Maryland students have the education and skills they need for the jobs of today and tomorrow. That's why he has made education and skills training a core component of the Make It In America plan, a legislative agenda he leads in Congress to promote economic competitiveness, job creation, and opportunity. The Make It In America plan aims to promote pathways to careers, encourage entrepreneurship, and create jobs by repairing and rebuilding our aging infrastructure. With the pandemic exacerbating educational inequities, Congressman Hoyer has been determined to close the achievement gap for students by supporting initiatives like providing HBCUs and minority-serving institutions with the resources they need to meet the needs of students and set them up for success.
Congressman Hoyer is also an advocate for Full-Service Community Schools, modeled after the highly successful Judy Centers throughout Maryland, which coordinate educational and social-service programs through collaborative partnerships with school districts and community-based organizations. By co-locating services like health care and career assistance under one roof, Congressman Hoyer believes schools can more effectively and efficiently provide entire families with access to supports they might not easily access otherwise.
Congressman Hoyer also helped prevent 300,000 educator layoffs across our nation during the Great Recession. Additionally, he helped to enact the Student Aid and Fiscal Responsibility Act, which made critical investments in higher education by significantly increasing funding for Pell Grants, making loan repayment more affordable by expanding the Income-Based Repayment program, and providing $2 billion to strengthen community colleges. Congressman Hoyer believes that, in order to attract the best and brightest teachers, we must ensure they are paid fairly.
Finally, he continues to support investments in education for disadvantaged students and students with disabilities, funding for teacher professional development, and increasing Pell Grant awards for students pursuing higher education.
Environment
Congressman Hoyer knows that climate change is the existential threat facing current and future generations. He believes that we must take bold steps to address the worsening climate crisis, which is a threat to our environment, including the Chesapeake Bay; to public health; to our economy; and to our national security. He is focused on reducing carbon pollution, advancing renewable energy technologies, and improving energy efficiency, all of which will help families and businesses save money, spur innovation, create good-paying jobs, and improve public health.
Recent enactment of the Infrastructure Investment and Jobs Act will mean substantial investments in tackling the climate crisis and a cleaner, more sustainable environment for Marylanders. The infrastructure bill includes historic investments in transit and intercity passenger rail, the largest single investment in water infrastructure, and $238 million dollars to clean up the Chesapeake Bay. Complementing it, the Build Back Better Act includes $555 billion, and it would be the largest investment by any nation, in order to address the climate crisis. That legislation passed the House in November, and it is awaiting action by the U.S. Senate.
Congressman Hoyer introduced legislation that would curb carbon emissions from deforestation while helping the global community meet the goals of the Paris Climate Accord. H.R. 5830, the America Mitigating and Achieving Zero-emissions Originating from Nature for the 21st Century Act, or AMAZON21, will help end deforestation by 2030 around the world, support reforestation efforts in developing countries, protect the rights of women and indigenous peoples, and take additional steps to save our planet's critical carbon sinks.
Congressman Hoyer strongly supports environmental standards that keep our land, air, and water clean. He has supported every major environmental bill since he was elected to Congress. He has also secured federal dollars to clean up the Chesapeake Bay and the Patuxent, Potomac, Anacostia, and St. Mary's Rivers, and he has worked to replenish the oyster population of the Chesapeake Bay and its tributaries. In addition, Congressman Hoyer has been an advocate for the clean up of toxic PFAS chemicals in the Fifth District and brought H.R. 2467, the PFAS Action Act, to the House Floor to address these 'forever chemicals' in communities in Maryland and across the country.
Congressman Hoyer has also worked to protect Maryland's open spaces and secured federal funds to add 8,000 acres to the Patuxent Wildlife Refuge, to expand and protect Piscataway Park, and to help acquire 6,000 acres in Charles County for the Douglas Point Project.
Federal Employees
Our nation's federal workforce is the best in the world, and Congressman Hoyer is proud to represent thousands of federal employees and retirees who live and work in the Fifth District. In Congress, he has led the fight for fair pay and benefits, with a strong focus on ensuring pay parity between military and civilian personnel - as well as quality health care coverage, a solid retirement system, and fair working conditions.
Working closely with the Biden-Harris Administration, Congressman Hoyer will continue to serve as an advocate for federal employees in Maryland. In recent years, federal employees have been asked to contribute $182 billion toward deficit reduction through freezes to cost-of-living-adjustments and changes to retirement benefits. Congressman Hoyer has consistently opposed efforts to target federal workers' wages, benefits, and hours any further.
Additionally, he opposes the arbitrary and untargeted spending cuts known as sequestration, which resulted in furloughs for many federal employees in 2013. Congressman Hoyer continues to urge his colleagues to work on a bipartisan basis to replace the sequester and prevent additional furloughs in the future.
Health Care
For Congressman Hoyer, ensuring that more Marylanders have access to affordable, quality health insurance coverage is a top priority. For the past decade, the Affordable Care Act (ACA) has helped bring coverage to millions more Americans, significantly slowed the growth in costs, and brought an end to discriminatory practices that left many suddenly without coverage or access to care when they needed it most. That law, which Congressman Hoyer brought to the Floor as Majority Leader in 2010, ended the practice of denying coverage to those with pre-existing conditions and banned annual and lifetime limits on health coverage benefits.
Congressman Steny Hoyer talks with fourth-semester nursing students at the College of Southern Maryland who participated in the Clinical Simulation Lab demonstration (March 31, 2010) The COVID-19 pandemic made it clear why measures like the Affordable Care Act's reforms are so critical to preserve and expand. Congressman Hoyer has fought vigorously to lower the cost of prescription drugs and strengthen the Affordable Care Act in Congress. He is focused on working with his colleagues and the Biden-Harris Administration to expand access to affordable health care to all Marylanders with the Build Back Better Act. This legislation will lower the cost of health care for Marylanders. It will make sure that no Marylander pays more than $35 a month for insulin and bring down the costs of prescription drugs by allowing Medicare to negotiate the price of prescription drugs.
Abortion Access
Congressman Hoyer is outraged by the Supreme Court's decision to overturn Roe v. Wade and believes that this decision, as well as the extremist policies Republican-backed states are pushing to undermine women's right to care, presents the worst assault on women's rights in generations.
Congressman Hoyer believes that reproductive health care decisions ought to be made between women and their doctors, and has been a supporter in Congress of stronger access to and greater protections for women's health care. That is why he brought legislation to the House Floor for a vote that would enshrine Roe v. Wade into law. He will not stop until women everywhere - regardless of their zip code - can have safe and equitable access to the care they deserve and the autonomy to decide what is right for them.
Jobs & Economy
As we continue to rebuild and grow our economy following the economic fallout from the COVID-19 pandemic, Congressman Hoyer understands that we have to remain focused on job creation, support for our small businesses, and investments in the future. He will work with his colleagues in Congress to ensure that Marylanders have all the tools necessary to access opportunities that provide real economic security to families.
Congressman Hoyer continues to fight for expanded contracting opportunities for disadvantaged communities, minorities, and women, as well as shared economic growth and job creation throughout Maryland.
Congressman Hoyer understands that small businesses are the job-creating engine that will help rebuild our economy. With the COVID-19 legislation enacted by Congress, Congressman Hoyer successfully secured billions of dollars for small businesses, including the smallest businesses and minority-owned businesses in Maryland.
Congressman Hoyer believes it is shameful that many women still earn less pay than men for the same work – and he is deeply alarmed by the departure of so many women from the workforce as a result of the COVID-19 pandemic. While the pay gap in Maryland's Fifth District is closing, Congressman Hoyer is focused on taking additional steps to ensure equal pay for equal work and set more women on a path of economic success beyond COVID-19. Congressman Hoyer helped pass the Lilly Ledbetter Fair Pay Act to protect women against pay discrimination and help close the gender gap in wages. It was the first piece of legislation former President Obama signed into law, and Congressman Hoyer is committed to building on this progress. He was pleased to bring the Paycheck Fairness Act to the House Floor earlier this year to close the gender pay gap and ensure that equal pay means equal work. With more women than ever as primary breadwinners, Congressman Hoyer is committed to the fight for equal pay, and he'll keep fighting because Maryland women and their families deserve it.
Congressman Hoyer has worked to create or save nearly 23,000 jobs across the Fifth District, including jobs at Patuxent River Naval Air Station; St. Inigoes; the Naval Surface Warfare Center, Indian Head; and Goddard Space Flight Center.
Congressman Hoyer has also been a champion for a cost-of-living-adjustment for federal employees in Congress. He has worked hard to make sure federal employees have the benefits they've earned to support themselves and their families. On behalf of the over 60,000 federal employees in Congressman Hoyer's district, he has consistently advocated and fought for a fairly compensating the federal civilian workforce for their service to Americans.
Racial Equity & Equal Justice for All
Congressman Hoyer knows that, for far too long, Black Americans have been denied equal and fair opportunities in our country and access to a better quality of life. He has continued to be a champion for fairness and equality for all. Having begun his public-service career advocating for fair housing for Black residents in Maryland, throughout his time in office Congressman Hoyer has worked closely with his colleagues in the Congressional Black Caucus, Congressional Hispanic Caucus, and Congressional Asian Pacific American Caucus to advance legislation that ensures minority populations are fully enfranchised in Maryland and across our country while receiving equal treatment and equitable access to opportunities.
Racial Equity
The COVID-19 pandemic has heightened the urgent need for addressing our country's long-standing racial inequities, particularly in the economy and in public health. In addition to ensuring passage and enactment of critical COVID-19 emergency legislation to address these disparities, Congressman Hoyer has continued to advocate for an equitable response to this pandemic. He urged that data be collected so policymakers can fully understand how this pandemic has impacted African Americans and Latinos. When vaccines were distributed, Congressman Hoyer led the charge to secure the FEMA mass vaccination site at the Greenbelt Metro Station, ensuring that Prince George's County residents, who statistically had lower vaccination rates, could access vaccines equitably and easily.
Congressman Hoyer has also been a leader on the national level to stamp out hatred and bigotry. Following demands for police accountability, Congressman Hoyer helped bring the George Floyd Justice in Policing Act to the House Floor and twice secured its passage, affirming that Black Lives Matter. He has also worked to eliminate symbols of hate and bigotry in our United States Capitol and joined the fight to make lynching a federal hate crime. In the face of rising violence against Asian Americans, Congressman Hoyer helped secure passage of a resolution to denounce hate crimes specifically targeting these communities.
Gun Safety
Congressman Hoyer has always been a staunch supporter of gun safety laws that keep our communities safe. For years, he has supported universal background checks for gun carriers, and he brought H.R. 8, the Bipartisan Background Checks Act to the House Floor for a vote to tighten loopholes in current gun laws. He wants to put an end to the gun violence epidemic that has roiled communities across the country, including right here in Maryland. In 2022, Congressman Hoyer was critical to the enactment of the historic Bipartisan Safer Communities Act. This package included important provisions such as closing the harmful 'boyfriend loophole,' measures to help implement 'red-flag' laws that empower law enforcement officers to keep guns out of the hands of people at risk of harming themselves or others, and making it a federal requirement that thorough background checks are conducted for Americans under the age of twenty-one who seek to purchase a firearm. Congressman Hoyer will continue advocating for measures that keep communities safe from this epidemic and save lives.
Transportation
Addressing the Fifth District's transportation needs remains a top priority for Congressman Hoyer. The Fifth District is one of the fastest growing areas in the State of Maryland, and Congressman Hoyer has worked very closely with state and local officials to ensure that our transportation infrastructure is prepared to meet the needs of Fifth District residents, businesses, and federal facilities. With the Infrastructure Investment and Jobs Act, Congressman Hoyer helped deliver funding to support transformative investments in Maryland's infrastructure. In addition to the many investments it makes in internet access, water infrastructure, and addressing the climate crisis, the law secures over $7 billion for Maryland and includes important initiatives like repairing highways, roads, bridges; This legislation represents the largest investment in public transit ever made, and it contains historic investments in intercity rail, including Amtrak's Northeast Corridor serving the district. Further, it will expand Maryland's electric-vehicle charging network as we move away from fossil fuels that harm our planet.
Over the years, Congressman Hoyer has also helped secure the reconstruction of the Baltimore/Washington Parkway, the dualization and restoration of Suitland Parkway, the expansion of Metro's Green Line in Prince George's County, and the Southern Maryland Commuter Bus Initiative. Recently, he worked on a bipartisan basis with the Washington Area Congressional Delegation to secure $1.5 billion in dedicated funding to help address Metro's capital backlog and improve the safety and reliability of the system for Fifth District commuters.
Veterans
Congressman Steny Hoyer is proud to represent thousands of service members, veterans, and military families, and he believes in honoring the service of these brave men and women and in keeping faith with them when they return home.
Congressman Hoyer is focused on improving health care for veterans and ensuring that they receive the benefits they have earned in a timely manner and with fewer errors. He has strengthened veterans' care by expanding mental health services, increasing access to health care in rural areas, and improving care for the more-than 2 million veterans who are women. He also fought to pass the 21st Century GI Bill, which funds four years of higher education for all of our veterans who have served actively since 9/11, which means college opportunities for over 2 million veterans.
Additionally, Congressman Hoyer is working to end homelessness among veterans, securing grant funding to support veterans who are homeless or at risk of homelessness, and he has worked to improve veterans' services in Maryland communities by working with federal, state, and local stakeholders to build a new, ADA-accessible Community Based Outpatient Clinic in Charlotte Hall and a satellite facility in St. Mary's County.
Maryland's veterans have stood by our country, and Congressman Hoyer will continue to stand by them.
Share This Page