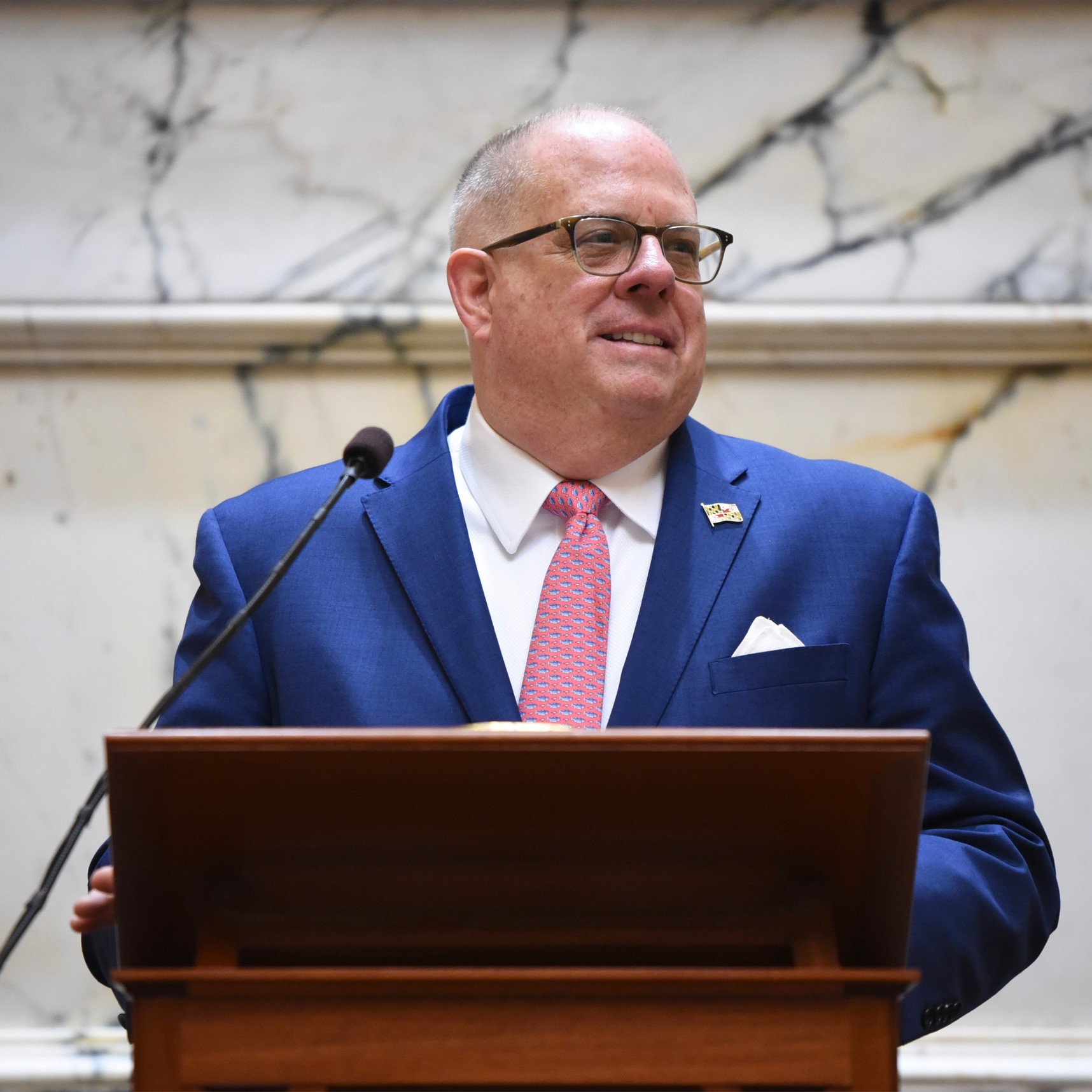 governor Larry Hogan Contact information
Here you will find contact information for governor Larry Hogan, including email address, phone number, and mailing address.
| | |
| --- | --- |
| Name | Larry Hogan |
| Position | governor |
| State | Maryland |
| Party | Republican |
| Born | May 25, 1956 |
| Entered Office | January 21, 2015 |
| Terms1 | January 21, 2015 - January 15, 2019 |
| Terms 2 | January 16, 2019 - Current |
| Terms 3 | |
| Term expires | |
| Mailing Address | 100 State Circle Annapolis, MD 21401 |
| Mailing Address 2 | |
| Phone number | 410/974-3901 |
| Phone number | |
| fax 1 | |
| fax 2 | |
| email | Email Form |
| Website | Official Website |
contact Governor Larry Hogan
Governor Lawrence J. Hogan, Jr. was sworn in as the 62nd governor of the State of Maryland on January 21, 2015. In 2018, he was overwhelmingly re-elected to a second four-year term, receiving the most votes of any Maryland gubernatorial candidate and becoming only the second Republican governor to be re-elected in the 242-year history of the state. Prior to his election in 2014, Governor Hogan – who had never before held elective office – spent more than 25 years building and running small businesses in the private sector. In 2011, he founded Change Maryland, the largest nonpartisan grassroots citizen organization in state history, which is dedicated to bringing fiscal responsibility and common sense to state government. Governor Hogan is married to Yumi Hogan, a first generation Korean-American, artist and teacher. She is the first Asian first lady in Maryland history and the first Korean-American first lady in United States history. They have three daughters Julie, Jaymi, and Kim; four grandchildren Daniella, Cam, Ada and Nora; and two dogs, Anna and Chessie, whom they rescued from BARCS animal shelter in Baltimore City in 2018.
Larry Hogan for governor
Larry Hogan is not a career politician. As a lifelong Marylander and small business owner who was fed up with sky-high taxes, politics as usual, and decades of one-party rule, he started Change Maryland, the largest non-partisan grassroots citizen organization in state history.
In 2014, out-numbered in party registration by more than 2-1, and outspent by more than 5-1, Larry Hogan pulled off the biggest upset in America on election night, becoming only the second Republican Governor elected in Maryland in 50 years.
Once in office, Governor Hogan quickly became an example of leadership for the nation, accomplishing what many believed was no longer possible: bipartisan, common sense solutions.
As Governor, Larry Hogan has cut taxes for seven years in a row, including the largest tax cut in state history, while turning the state's $5.1 billion deficit into a record $2.5 billion surplus. Under his leadership, Maryland produced the greatest economic turnaround in America. He restored peace and order to Baltimore City during the riots of 2015, reduced the cost of health care premiums by over 30%, and made historic investments in education, transportation infrastructure, and protecting the environment. He even achieved all this while overcoming a personal battle against cancer.
After four years of economic success and bipartisan progress in one of the bluest states in America, Governor Hogan was overwhelmingly re-elected to a second term in 2018, making him only the second Republican to do so in the entire 243 year history of the state.
When COVID struck the United States in 2020, Governor Hogan led the nation's governors through this crisis as Chairman of the National Governors Association. In Maryland, the governor's decisive and balanced leadership helped save countless lives and livelihoods.
Regardless of party affiliation, Marylanders agree: Governor Hogan is delivering results for his state. Polling consistently shows an overwhelming majority of all Republicans, Democrats and Independents—nearly 80% of all Marylanders—approve of the job he is doing, the highest of any governor in Maryland history and one of the highest of any governor in the nation.
Share This Page