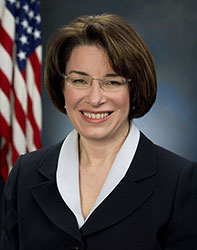 senator Amy Klobuchar Contact information
Here you will find contact information for senator Amy Klobuchar, including email address, phone number, and mailing address.
| | |
| --- | --- |
| Name | Amy Klobuchar |
| Position | senator |
| State | Minnesota |
| Party | Democratic |
| Born | May 25, 1960 |
| Entered Office | January 3, 2007 |
| Term expires | January 3, 2025 |
| Mailing Address | 302 Hart Senate Office Building Washington DC 20510 |
| Phone number | (202) 224-3244 |
| email | Email Form |
| Website | Official Website |
Contact Senator Amy Klobuchar (D-MN)
Amy Jean Klobuchar is an American lawyer and politician serving as the senior United States senator from Minnesota since 2007. A member of the Minnesota Democratic–Farmer–Labor Party, Minnesota's affiliate of the Democratic Party, she previously served as the Hennepin County attorney.
Amy Klobuchar for senator
On This Page
Amy Jean Klobuchar is an American politician and lawyer. She is currently serving as a Senior U.S. Senator from Minnesota. She was born in Plymouth, Minnesota on May 20th, 1960.
Amy went to public schools in Plymouth and she was a valedictorian at Wayzata High school. She completed her Bachelor of Arts Degree in political science magna cum laude in 1982 from Yale University. She spent her time in Yale as an intern for the Vice-president and former senator Walter Mondale.
Senator Amy Klobuchar enrolled at the University of Chicago Law school after graduating from Yale. She served as an associate editor of the University of Chicago Law Review and got her Juris Doctor degree magna cum laude in 1985.
Senator Amy Klobuchar Career
Amy started her career as a corporate lawyer after graduating from law school. She was working as a prosecutor, and she was also a partner at two firms in Minnesota: Dorsey & Whitney and Grey Plant Mooty. She was seeking public office at the time. Senator Amy Klobuchar first came into politics after the birth of her child because she was forced to leave the hospital only after 24 hours. The situation aggravated because her daughter was born with a disorder that prevented her from swallowing.
Because of this, Amy appeared before the Minnesota State Legislature and advocated a bill to guarantee new mothers a 48-hour hospital stay. The bill was passed and President Clinton made this policy a federal law.
Amy ran for public office for the first time in 1994. But she pledged to drop out if the incumbent Micheal Freeman got back in the race. Senator Amy Klobuchar had to quit the race and supported Freeman. Before running for office, Amy supported DFL candidates including Freeman. She ran for Hennepin County attorney again in 1998 and was elected. She was re-elected again in 2002 without any opposition.
She was named "Attorney of the Year" by Minnesota Lawyer. She was President of the Minnesota County Attorneys Association from 2002 to 2003.
Amy became a favorite for DFL nominations in the 2006 elections after U.S. Senator Mark Dayton announced that he would not seek reelections. She was endorsed by EMILY's List and won the DFL endorsement in 2006.
In the 2006 general elections, Klobuchar faced Republican candidate Mark Kennedy, Independence Party candidate Robert Fitzgerald, Constitution candidate Ben Powers, and Green Party candidate Michael Cavlan. She was the first lady to be elected as a U.S. Senator from Minnesota. Amy won a second term in 2012 and she defeated the Republican Representative Kurt Bills. She also ran for a third term in 2018 and won by a 24-point margin.
Senator Amy Klobuchar Accomplishments
(Georgia wins have big ramifications for Minnesota Democrats in D.C. Source: Minnpost)
In late 2016, Amy had passed more legislation than any other Senator. She also obtained full funding to rebuild the I-35W bridge only thirteen months after it collapsed. She also helped to pass legislation to end human trafficking and keeping foreign products off the U.S. shores.
Senator Amy Klobuchar Criticisms
After the George Floyd incident in Minneapolis Police custody, Amy was criticized for her lack of prosecution of Police misconduct in her tenure, including a case against Derek Chauvin. He was a Police Officer who was found guilty of the murder of George Floyd. Buzzfeed news wrote an article in 2019 in which interviews were done with former staffers and emails were reviewed. These interviews and reviews showed that Sen. Klobuchar frequently humiliated and abused her employees.
An article published by the Huffington Post also stated that Amy had a reputation for not treating her staff correctly.
Share This Page