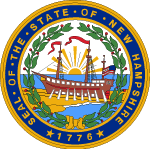 New Hampshire State Government
Contact information for the New Hampshire governor.
New Hampshire became the ninth state to join the Union on June 21, 1788. New Hampshire's first two senators, John Langdon and Paine Wingate, took office on March 4, 1789. New Hampshire's longest-serving senators include Jacob Gallinger (1891-1918) and H. Styles Bridges (1937-1961). Among those who rose to leadership positions are John Langdon, who served as the Senate's first president pro tempore, and Styles Bridges, who served as Republican floor leader.
Contact New Hampshire Governors
Former governors
Contact New Hampshire Senators
Contact New Hampshire Representatives