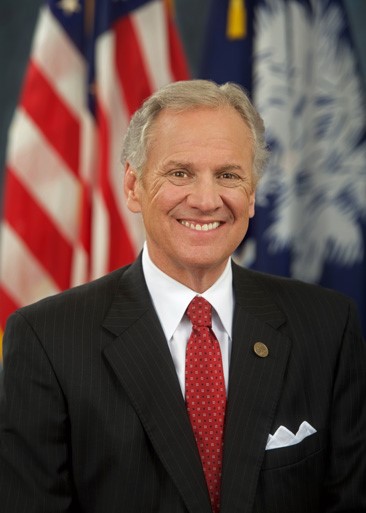 governor Henry McMaster Contact information
Here you will find contact information for governor Henry McMaster, including email address, phone number, and mailing address.
| | |
| --- | --- |
| Name | Henry McMaster |
| Position | governor |
| State | South Carolina |
| Party | Republican |
| Born | May 27, 1947 |
| Entered Office | January 24, 2017 |
| Terms1 | January 24, 2017 - January 8, 2019 |
| Term expires | |
| Mailing Address | 1205 Pendleton Street Columbia, SC 29201 |
| Phone number | 803/734-2100 |
| fax 1 | 803/734-5167 |
| email | Email Form |
| Website | Official Website |
contact Governor Henry McMaster
Henry Dargan McMaster of Columbia became the 117th Governor of South Carolina on January 24, 2017 and was elected to his first full term as governor on November 6, 2018. Gov. McMaster was the first U.S. attorney appointed by President Ronald Reagan, and was unanimously confirmed by the United States Senate. As lieutenant governor, Gov. McMaster served as president of the South Carolina State Senate and headed the Lieutenant Governor's Office on Aging, which aids older adults with social, economic and health needs. Gov. McMaster received his AB degree in history in 1969 from the University of South Carolina and his JD degree in 1973 from the University of South Carolina School of Law, where he served on the South Carolina Law Review. He served in the U.S. Army Reserves in the JAG Corps from 1969 to 1975. Gov. McMaster is married to Peggy McMaster, and they have two children, Henry D. McMaster, Jr. and Mary Rogers McMaster. They are members of First Presbyterian Church of Columbia.
Henry McMaster for governor
On This Page
Governor of South Carolina
Governor Henry Dargan McMaster, a longtime public servant of South Carolina, was born May 27, 1947, in Columbia, South Carolina. He received a bachelor's degree in history from the University of South Carolina in 1969 and as an undergraduate was a member of Kappa Alpha Order and the South Carolina Student Legislature.
In 1973, he graduated from the University of South Carolina School of Law, where he was on the editorial board of the South Carolina Law Review. Later that year, he was admitted to the Richland County Bar Association. He also served in the U.S. Army Reserves, receiving an honorable discharge in 1975.
Upon graduation from law school, he was a legislative assistant to U.S. Senator Strom Thurmond in Washington, D.C., and joined the law firm of Tompkins and McMaster in 1974. He was later admitted to practice before the U.S. District Court, U.S. Court of Claims, the U.S. Court of Appeals for the Fourth Circuit, and the Supreme Court of the United States. Governor McMaster practiced law for over 40 years, as a federal and state prosecutor and in private practice in both state and federal courts.
Governor McMaster was the first U.S. attorney appointed by President Ronald Reagan in 1981, and his "Operation Jackpot" investigation into international drug smuggling resulted in more than 100 convictions.
In 1991, he was appointed to the state Commission on Higher Education and joined the Board of Directors of the nonprofit South Carolina Policy Council where he also served as chair. He chaired the state Republican Party from 1993 to 2002. He was elected attorney general of South Carolina in 2002 and reelected in 2006.
As attorney general, Governor McMaster made prosecution of criminal domestic violence a priority and led a crackdown on child internet predators. He extended the South Carolina grand jury's jurisdiction to environmental and gang crimes and broadened its authority to include securities crimes.
Following service on the South Carolina Ports Authority Board of Directors, he was elected lieutenant governor in 2014. As lieutenant governor, he led efforts to protect our state's growing senior citizen population with social, economic, and health support services, which earned national recognition from AARP.
McMaster was sworn in as governor in January 2017 following then - Governor Nikki Haley's appointment as United States Ambassador to the United Nations and was elected to a full term as governor in November 2018.
Governor McMaster has led a strong and vibrant South Carolina economy, announcing more than 59,000 new jobs and over $17.5 billion in new capital investment in the state. Under his leadership, the state has made transformative investments in the classroom by expanding full day four-year-old kindergarten, raising K-12 teacher pay, and placing a school resource officer in every school. Colleges and universities are becoming more accessible and affordable due to the governor's tuition freeze and by his doubling of funding for needs-based financial aid for in-state students.The Governor's Family in front of a Christmas tree
He has cut taxes on our state's small businesses by $317 million and has returned over $67 million dollars to the taxpayers. The governor has kept the commitment to our state's military veterans, first responders, law enforcement, firefighters, and peace officers – through pay increases, retention bonuses, and exemptions on retirement income exemption. The governor's limited, measured, and temporary COVID-19 actions – coupled with freezing all new state government spending during the pandemic – allowed South Carolina's economy not only to survive, but to actually thrive and generate record surpluses.
Governor McMaster served on the Palmetto Health Foundation Board and is the recipient of the Order of the Palmetto, the state's highest civilian honor awarded to citizens of South Carolina for extraordinary lifetime service and achievements of national and statewide significance. He was previously named Public Servant of the Year by the Sierra Club and National Law Enforcement Officer of the Year by the Humane Society of the United States.
Governor McMaster and his wife, Peggy, have two adult children and reside in Columbia.
First Lady of South Carolina
First Lady Peggy McMaster grew up in Spartanburg, South Carolina. Her parents, Thomas Wales McAbee of Roebuck and Mary Rogers McAbee (nee Anderson) of Laurens, encouraged her, her brother, and her two sisters to grow their hearts through service to their church and community.
After graduating from Spartanburg High School, the First Lady attended Spartanburg Junior College for two years. She was employed by United Airlines as a flight attendant when she met Governor McMaster while he was serving as a legislative assistant for the late Senator Strom Thurmond in Washington, D.C. They were married in her home church, First Baptist Spartanburg. The Governor and First Lady began their life together in Columbia, S.C., where she graduated from the University of South Carolina with a degree in business administration and fashion. After graduation, she fulfilled her dream of being a small business owner; opening and operating The Parasol boutique for 17 years.
The First Lady currently serves on the boards of the American Red Cross, Pawmetto Lifeline, and as the Honorary Chair for the Fisher House (SC) Capital Campaign. She is also involved with the SC Attorney General's Office and the task force to combat human trafficking in South Carolina. She served as president for the Women of the Church of First Presbyterian, Columbia, S.C., and remains active in all aspects of church life including Bible study and Women's Circle. She served on the boards of Laurel Crest Retirement Community and Sistercare, Inc., and is a current member of the Columbia Garden Club. She frequently spends time serving meals to the homeless at Transitions, and remains active through daily exercise.
The Governor and First Lady have two children, Henry Dargan McMaster, Jr., who married Virginia Roach in August of 2018, and Mary Rogers McMaster who marred Sam Herskovitz in March of 2019. The First Family is often seen around South Carolina with their beloved English Bulldog, Mac.
Share This Page