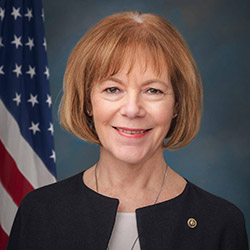 senator Tina Smith Contact information
Here you will find contact information for senator Tina Smith, including email address, phone number, and mailing address.
senator Tina Smith biograph(D-MN)
Christine Elizabeth "Tina" Smith is an American politician and former businesswoman serving as the junior United States senator from Minnesota since 2018. She is a member of the Minnesota Democratic–Farmer–Labor Party, an affiliate of the Democratic Party.
Tina Smith for senator
On This Page
I have been honored to serve as your Senator since January 2018 and I'm proud of the work we've done together since then. I moved to Minnesota the summer of 1984 with my new husband Archie. My first job in Minnesota was at General Mills. Archie and I moved to St. Louis Park, had our two sons Sam and Mason (who are now married!), and found our life in Minnesota. A few years later I started my own business, and at the same time got more active in my community volunteering. I loved it. That work led me to become a leader at Planned Parenthood, Chief of Staff for the Mayor of Minneapolis, and then Chief of Staff for Governor Dayton. When Mark asked me to run with him as Lt. Governor, I never looked back, and I loved serving all Minnesotans, where I saw every day the spirit, creativity, and hard work that makes Minnesota so amazing.
In my first year in the Senate, I worked hard across party lines to get things done for Minnesotans. I'm not afraid to stand up for what I think is right for Minnesota, and I'm willing to work with anyone who wants to work with me to move good ideas forward. I've helped write a number of pieces of legislation that have been passed into law, including one that expands resources for career and technical education, another that increases funding for states and tribes to address the opioid crisis, and the bipartisan Farm Bill that supports farmers and ranchers across the state.
The first thing I did in the Senate was to introduce legislation that takes on the big pharmaceutical companies to help lower the cost of prescription medicine. I helped write bipartisan legislation that was signed into law to expand and improve treatment and prevention for the opioid epidemic, and my legislation to expand mental health services into schools and communities was signed into law. I also worked across the aisle to pass a law expanding career and skills training, and introduced legislation to expand access to child care.
Food and agriculture is at the heart of Minnesota's economy, which is why I fought for a spot on the Senate Agriculture Committee. We worked hard to pass and sign into law a bipartisan Farm Bill that supports farmers and ranchers across the state. The Farm Bill included several provisions I authored to expand broadband in rural areas, strengthen conservation programs, and help new farmers get going.
And I'm just getting started. In November of 2018, you raised your voice to elect me to the Senate — together we achieved a 10 point victory. I'm grateful to everyone in Minnesota who put their faith in me, and every single day I work hard to make sure your voice is heard in the United States Senate.
Prior to being your Senator, I served as chief of staff and lieutenant governor alongside Governor Dayton, and I'm proud of what we accomplished together: we balanced the state budget, expanded investments in education, including free, all-day kindergarten for every Minnesota family. We raised Minnesota's minimum wage, expanded family medical leave for state employees, invested in agricultural research, and passed marriage equality in Minnesota. We got a lot done. But there's so much more to do.
I began my career at General Mills and after a few years, I started my own small business and grew it successfully, all while volunteering in our community – often with a kid or two in tow. I left the private sector when I had the opportunity to expand health care access for women, joining Planned Parenthood as an executive. Today I'm proud to be the only U.S. Senator to have worked for Planned Parenthood. I left Planned Parenthood when I was called into public service, serving as chief of staff to Minneapolis Mayor R.T. Rybak and then serving alongside Governor Dayton.
As we look ahead to the important election in 2020, listening to you, listening to Minnesotans – your stories, goals, and dreams for the future – is at the core of our campaign. It's the best way to make sure I'm fighting for you in the Senate every day. I look forward to hearing from you along the way.
political issues
A few Americans are just born into opportunity. They're handed all the tools, and all the connections, and all the capital it takes to build any kind of life they can imagine. And as Tina's dad would say, good for them. But for the majority of Americans, opportunity isn't something you're given. It's something you have to earn through hard work.
And Tina is willing to do the work and work hard. Her belief is grounded in what she knows to be true about fellow Minnesotans: we get together to solve problems, to lift each other up, to find and stand on common ground. We're creative, we're practical, and we don't just complain about what's holding us back — we come up with solutions.
Tina knows that the wealthy and powerful are no match for the people of this state when we join our voices together, fight for the value and dignity of our work, and each do our part to make a generation of progress a reality. And when hard work isn't enough, she's ready to stand shoulder to shoulder with Minnesotans to make sure opportunity is available. As long as Tina has the honor of serving as your Senator, she's going to keep using her voice to speak up and fight for the American values that are under attack every day.
A Strong and Diverse Economy
With a diverse economy and economic opportunity, businesses can grow and workers can get better pay and better jobs. But now, as the country faces unprecedented times, Tina is working hard to make sure Minnesota's workers and small businesses have access to the resources they need. Tina knows the importance of rebuilding American manufacturing, building an American medical supply chain, and finding common ground to rebuild the middle class.
Affordable High-Quality Health Care
Every Minnesota family deserves high-quality health care they can afford. And now more than ever, as the country faces an unprecedented health crisis, Tina is committed to fighting for affordable health care, because nobody should have to choose between paying for health care and putting food on the table.
Quality Education for All Minnesotans
Education is the engine of opportunity and it ought to be available to all of us, not just some of us. Tina understands that education drives opportunity and it should be affordable and accessible to everyone.
Action on Gun Violence
We can address the epidemic of gun violence with common-sense reforms.
Supporting Minnesota's Farmers and Rural Communities
Agriculture is at the heart of Minnesota's economy. Tina is focused on making sure Minnesota farmers have a strong voice in Congress.
Women's Economic Health and Security
Women still don't have equal autonomy, opportunity, or pay as men do. As the only Senator to have worked for Planned Parenthood, Tina knows the importance of fighting for reproductive justice.
Protecting and Preserving Social Security
Social Security is the bedrock of economic and retirement security of the American middle class. Tina believes we should expand Social Security and ensure that it remains solvent in the long term.
Supporting our Veterans
One of our most solemn duties is to take care of the people who served in our armed forces. Tina is committed to making sure they receive and have access to the benefits they've earned.
Standing up for our LGBTQ+ Family
Every American deserves to be treated with dignity and respect. Tina believes we need to defend the progress that has been made for LGBTQ+ equality and fight the injustices that still exist for too many LGBTQ+ Americans.
Tribal Communities
We must stand shoulder to shoulder with our Native communities and hear their needs and see their contributions.
Protecting our Environment
We need to address climate change, protect our country's national treasures, and fight back against efforts by this Administration to roll back responsible environmental policy.
Dreamers and Immigrants
Minnesota's communities are strong because of our immigrant neighbors and friends. We need to make sure our immigration system is one that is reflective of our country's values and needs and one that prioritizes the dignity of the individuals seeking opportunity in the United States.
Taking on Special Interests and Campaign Finance Reform
We need to end the influence of corporate special interests and dark money on politicians. Tina believes we will only be able to build an economy that works for everyone if we reform this broken system.
Strengthening Collective Bargaining Rights
When workers are able to join together to fight for livable wages, a safe work environment, and quality benefits for their families, we all do better. That's why Tina believes that collective bargaining is a fundamental right for workers, and makes for stronger communities and families.
Trade
Trade plays a critical role in Minnesota's economy. Tina supports fair trade, but knows trade can't be a one-size fits all approach.
Supporting Arts and Culture
Arts and culture are an important part of Minnesota's identity, economy, and quality of life. That's why Tina is committed to sustaining and advancing arts and cultural opportunities for all.
Justice for George Floyd and Transforming Policing
Tina wants justice for George Floyd, and justice includes accountability for all the officers who were involved in his murder. Tina also says we need to face up to the disparities in opportunity that hurt Black, Brown and Indigenous people every day, and we need to use this moment to take action.
Share This Page